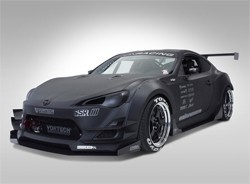 Pictures: Toyota FR-S and Ford Mustang are the hottest cars at 2012 SEMA Auto Show
SEMA Auto Show is the place where companies come to show off some of the most ridiculous concepts while some are genuinely hot, as this the case with the Toyota FR-S and the Ford Mustang that their respective companies have brought to 2012 SEMA.
Almost 2,000 companies showed up at this year's SEMA with different exhibits and a vote button with them so they could track the trendiest vehicles.
This year's Hottest Car and Hottest Sport Compact are the Ford Mustang and Scion FR-S, respectively, while the Ford F-Series is the Hottest Truck and the Jeep Wrangler was named the Hottest 4×4-SUV.