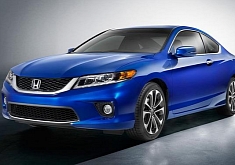 First official images of the 2013 Honda Accord released
We had been teased a lot by the 2013 Honda Accord and Honda has finally taken off the camouflage to show what they call to be 'the most sculpted and dynamic Accord release to-date', which roughly means that Accord has become more curvaceous, meaning that it has slightly improved in looks to please the eye.
Their traditional goals to improve on safety and fuel economy has been met but this time, they've also added another goal, to make the car look more stylish and German, this is not us, this is Honda, themselves telling (or more appropriately, bragging) it is the most sculpted and German-ish Honda to date.
Honda has just released images of the 2013 Accord and more details will be released soon but we believe that engine range will be carried over from the previous generation of Accord with minor economy-minded tweaks. The new car will also have more equipment as standard, which includes both comfort and safety features, but safety doesn't matter much to Pakistanis does it? I mean if it did than Pak Suzuki might had to close down a decade ago? Right?