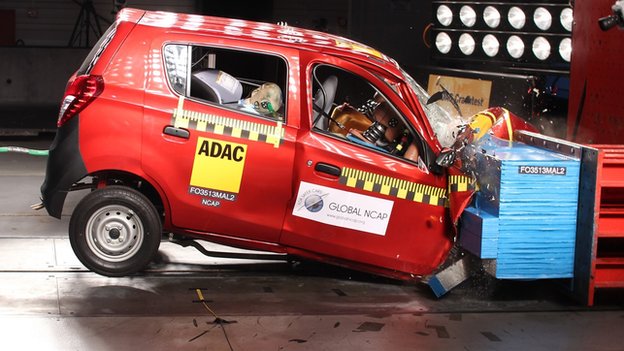 Five Most Popular Indian Cars Fail Crash Tests
Indian Auto Expo 2014 is going in full swing these days regardless of the negative crash test results that came in for the most of the popular Indian cars. As with any new and growing car industry, crash tests aren't usually in their favor but most of the established car industries of countries such as US, Japan, UK and Germany have had seen their fair share of bad safety results. However, India is a booming economy with ownership of plenty established foriegn auto companies such as Jaguar and Land Rover. And crash results such as this do a lot of harm to efforts spanning over decades of hard work.
The safety tests were conducted by Global NCAP, the results of which showed that if involved in a crash, fatalities or serious injuries could result out of the cars which included; the world's cheapest car, Tata Nano, different models made in India by Ford, VW, Hyundai and Maruti Suzuki. Five models made by these companies accounted for 20% of total sales in the country last years.
Critics say that the cars were rid of all their safety features to make them cheap and affordable for India buyers as head of NCAP Global who was formerly the Chief of FIA (the body that governs international motorsport), Max Mosley commented, "It's worrying to see levels of safety that are 20 years behind the five-star standards now common in Europe and North America."
Maruti Suzuki Alto, the reason why Pak Suzuki is in favor of opening auto imports from India so that they can begin assembling the defunct Suzuki Alto again, failed the test completely scored zero-star safety rating for adult occupant protection.
The five models that were put through the crash tests, includes: Maruti-Suzuki Alto 800, Tata Nano, Ford Figo, Hyundai i10 and Volkswagen Polo.
All these cars didn't have airbags and were not on part with safety standards that these same cars have when sold in North America and Europe. Max Mosley further added that "Poor structural integrity and the absence of airbags are putting the lives of Indian consumers at risk. They have a right to know how safe their vehicles are and to expect the same basic levels of safety as standard as customers in other part of the world."
VW took the tests very seriously and pulled off the Polo from the market and said that the car will be available from February 1 with ABS brakes, airbags and other safety features with a 2.7% increase in price to support the added safety features costs.Other automakers are reviewing the crash results.
From BBC:During the tests on Hyundai i10, the vehicle structures proved inadequate and collapsed to varying degrees:Coinciding with the Global NCAP tests, Volkswagen has decided to withdraw the non-airbag version of the Polo from sale in India and replaced it with a version which has two airbags:The Ford Figo's structures remained stable during the tests and Global NCAP says that with airbags, this car would provide much better protection for the driver and the front passenger:India's best-selling car Suzuki-Maruti Alto received a zero-star safety rating for adult occupant protection: