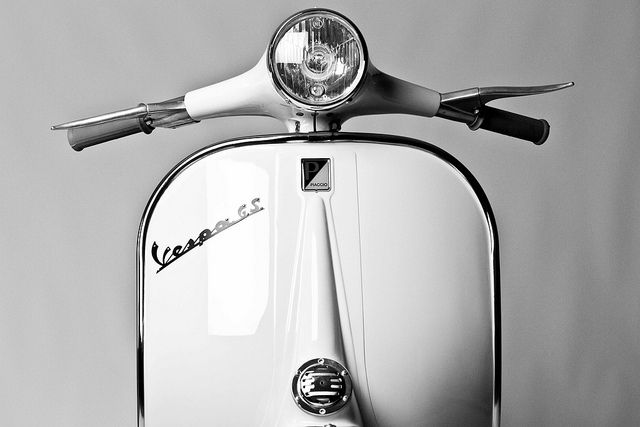 Pakistan's forgotten two-wheeled star
Remember when you were a child you or someone in your family had one in the house, parked somewhere in the open, rust eating away it's body and itself being covered entirely in dirt and grime. Yes, I am talking about the iconic Piaggio Vespa scooters. Those wide-bodied, two-stroke, single cylinder, kick start simple yet robust modes of transportation.
The Vespa comprised out of a uni-body, with a tall front splash guard and a flat foot board for foot protection and wide arches ending at the rear. One side in the rear had the engine while the other side was a storage compartment. The fuel tank was located underneath the seat. The engine was an air-cooled, single cylinder, two-stroke engine with a manual kick start coupled to a 3-speed manual gearbox without a clutch.
Did you know the Vespa is Italian and Latina for wasp. Upon the completion of the MP6 prototype, when it was revealed to Enrico Piaggio by his cheif engineer Corradino D'Acanio, Piaggio yelled "Sembra una vespa!"  ("it resembles a wasp!") thus, the name Vespa was born.
(click on thumbnail to enlarge)
The Vespa had the best of everything, it was good looking, had decent storage space, had the capacity to seat two adults and gave good mileage at the time.  Why did people stop using these two-wheeled icons you say? Well, reason being after the mid-70's Honda/Suzuki/Yamaha had started bringing in CD50 motorcycles which were more fuel efficient, weighed less than the Vespa and were cheaper to maintain. The decline of the Vespa started from there onwards.
But the enthusiasm of the iconic wasp did not die. Collecting and restoring older Vespa's became a trend from the mid-90's, it started off from Europe mostly England and neighbouring countries. The Vespa culture is still quite strong in that part of the world today.
Prior to the Vespa keeping trend, no one really like keeping these around in Pakistan. They would either break them apart and sell their parts or simply send them to the junkyard or give them to your local 'kabari wala'  (scrap dealer) for peanuts. No one could really sell them off even if they wanted too just because it became "an out-of-market" mode of transportation which had little to no "market value".
They held no value here soon afterwards parts, accessories and even whole complete Vespa's were sourced from old cities like Karachi, Lahore and Multan and were exported. Sadly, Vespa's are still being exported from Pakistan to Europe, America, Australia and various countries around the globe for the sake of earning money in foreign currencies. They are going by the containers loads, two even three containers at a time!
There still are enthusiasts who are interested in collecting and restoring these in Pakistan, talk about being double-minded (hehehe). With labor being cheap and parts being easily accessible, restoring a Vespa is not that hard. Take the the Vespa Club of Pakistan for example, based in Lahore they are still saving and restoring scooters.
With all that said, there should be an act imposed for exporting anything with wheels out of Pakistan, seriously! We've already seen too many rare, vintage and classic's being taken out of our motherland. We do not like loosing anymore.
It's only a matter of time when you will seldomly see a Vespa vroomin' it's way down a road.
(click on thumbnails to enlarge)