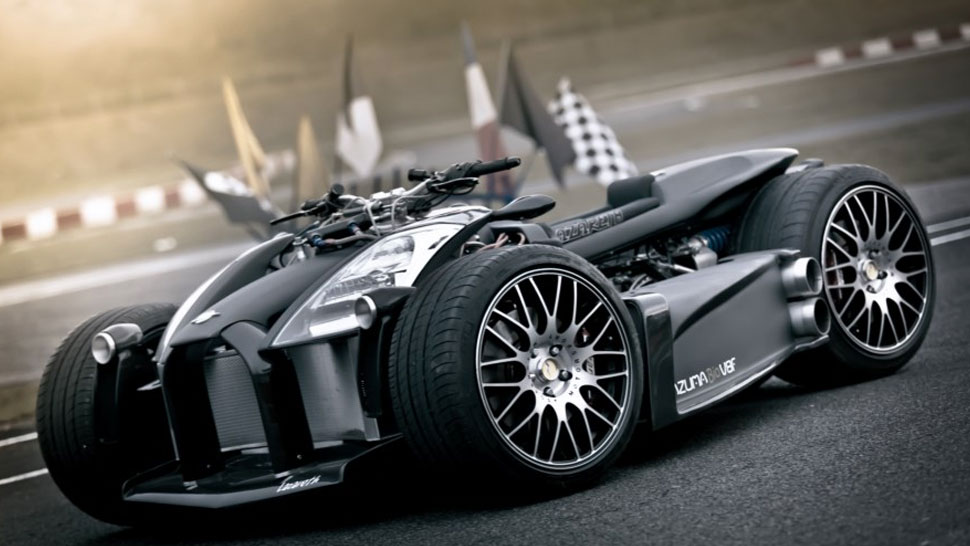 The French powered a Quad bike with a Ferrari engine
Quad bikes are in a way, utility bikes, they are meant to maneuver difficult terrain, such as sand dune bashing. We often see them at Sea View, Karachi. Though most of those are slower than walking but you get the idea and you'll always be instructed to keep off the real fun patches and stay on the smooth and hard sand because those quads cannot drive on them.
But the French had done one better. A French company named 'Lazareth' has built this Wazuma V8F which has a snow-mobile seating, the less prettier headlights from 2003-2005 Nissan 350Z, a 3 liter V8 producing 250 hp and a BMW M3 6-speed sequential gearbox is fitted to transfer that power to the wheels. All this combined to create the Wazume V8F Quad bike or car won't even allow you pass a speed breaker easily.
The whole quad bike/car/snowmobile weighs a whopping 1433 lbs and car must look the most hilarious during corners and we're guessing, with that much power between your legs, you'd need special kinds of restraints to keep you on the bike because as it turns out, the top speed of this is nearly 200 MPH. 200!!
But if you're rich and want to arrive amongst your rich friends not on a proper Ferrari or a Lamborghini, this quad bike only costs about 250,000 US $.