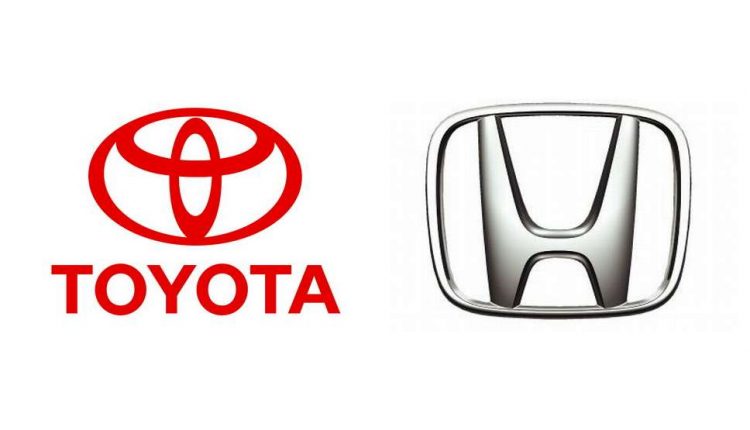 Fuel Pump Issue-A Must Read for Toyota, Honda Car Owners
By now, we all know that every car company recalls their cars every now and then to fix specific issues under what an automotive recall. This means that at the time of production, any part of the car could remain sub-standard, causing issues to the end-users.
Sometimes recalls are associated with the electronic module, which needs a software update. Some recalls are minor and do not pose any danger to the car owners immediately, but some genuinely need immediate action and known as "Safety Recall" like in case of famous Takata defective Airbags or the recall we are going to talk about in this article.
Fuel Pump Issue: 
Fuel Pump supplies the fuel from the fuel tank to the engine through high pressure to the injector in the engine. There is a global recall on this part, and the issue is with the low-pressure fuel pump, which is installed in the fuel tank and generally known as "LPFP." The piece under recall is made by Denso and used by various car companies like Toyota/ Lexus, Honda / Acura, Mazda, Ford. The LPFP has been recalled in different regions of the world, and it affects a long list of models.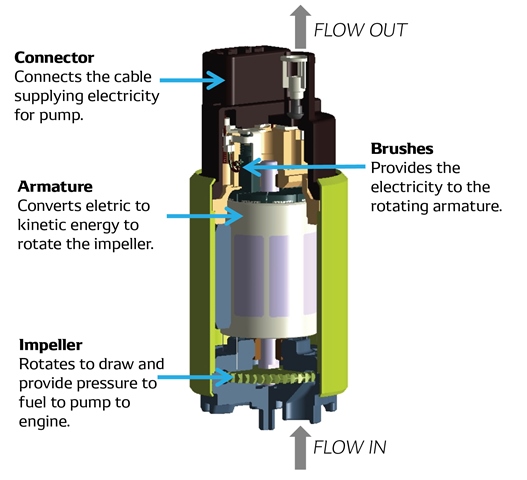 The fuel pump has an impeller that is faulty and can cause loss of power. Eventually, the pump stops working and does not feed the fuel line, and the vehicle can stop without any notice. In some cases, the car will not even start because engine is not receiving fuel. The pump can also stop working even when the vehicle is in motion, and engine can stall, and there is a risk of a crash.
According to the manufacturer, problem of LPFP is due to a manufacturing defect. "The impellers were exposed to production solvent drying for longer periods, potentially resulting in surface cracking," he said.
He also stated that in the impeller (resin impeller) of the low-pressure fuel pump, the molding conditions are inadequate, so the resin density becomes low, and the resin may swell and deform. "As a result, the impeller comes into contact with the pump cover/ housing, causing the fuel pump to malfunction, and in the worst case, the engine may stall during the driving," he explained.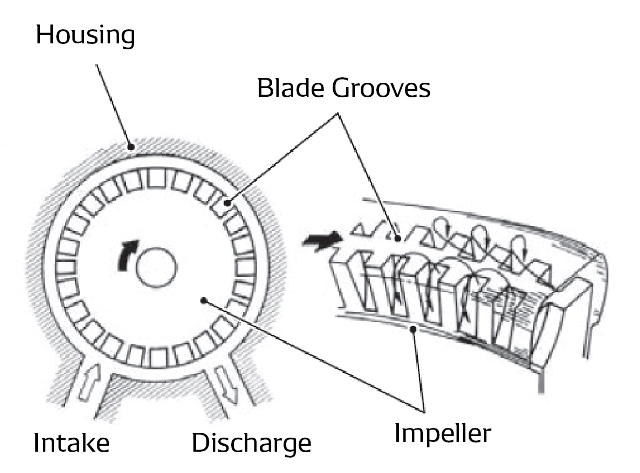 Now let's go over locally assembled Toyota and Honda in Pakistan and explore the situation pertinent to the fuel pump fiasco.
Toyota Indus: 
Toyota Indus imports fuel pumps, and the defective parts were also installed on locally assembled vehicles. As it's a global recall, specific CBU models are also affected. Toyota Indus was receiving multiple complaints about the failure of the fuel pump as well. Toyota Indus has already started a service campaign which includes sending text messages to owners as well as print media advertisements.
Recalled Models: 
If you are owner of the following listed vehicle, please contact your local Toyota dealer and get the part replaced. As this is a recall, the part will be replaced free of cost, regardless of the warranty status of your vehicle. If your car is one on the list, you MUST get the pump replaced even if you are not facing any issues. You can get stranded anywhere on the road as the pump stops working without any notice.
Corolla all variants manufactured from Jan. 2018 to Jun. 2019
Fortuner [Petrol ] manufactured from   Oct. 2017 to Feb. 2019
Prado [Petrol ] manufactured from      Dec 2013 to Jan. 2015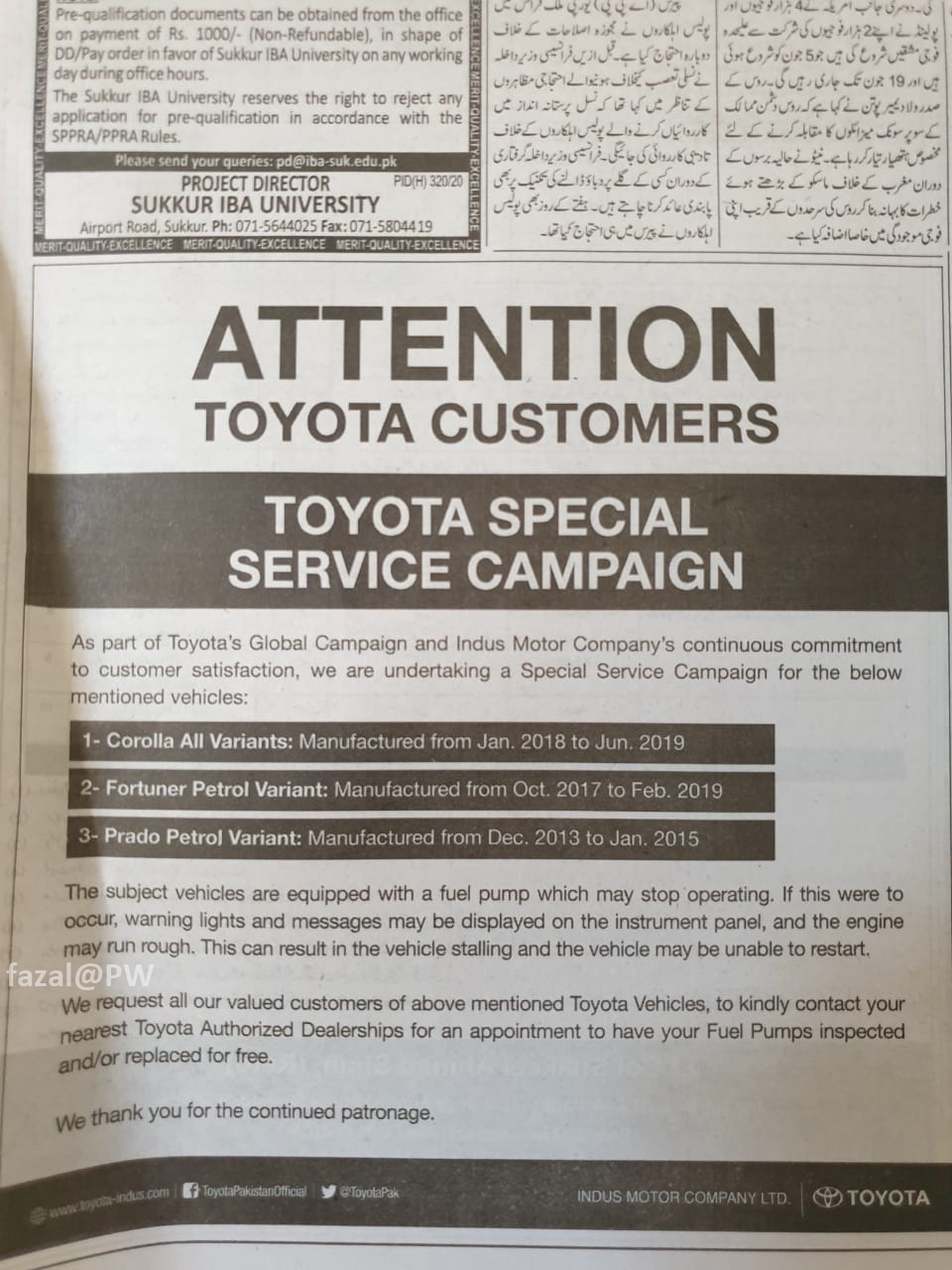 Issues With Recall: 
Although Indus started a recall campaign and it is highly appreciated, its extremely unorganized at some dealers, and in many cases the dealers do not have replacement parts. Toyota Indus must improve its inventory because this is an extensive recall and will bring many customers to dealerships.
Additionally, I am sure there might be owners with vehicles on the list and who already paid and fixed the pump before the launch of this recall campaign. 
Honda Atlas: 
As for the Honda, in many overseas markets, Denso is the supplier, and the defective fuel pump also affects various models of Honda and its sub-brand Acura inducing the NSX. The fuel pump issue affects vehicles manufactured between 2018 to 2020 and depending upon the regions, several models are part of the recall. This list also includes Civic, Accords, HRV's, CRV, Insight. Honda Pakistan import parts for the assembly of Civic's in Pakistan, and this includes the fuel pump. There is a due chance Honda Atlas also installs the problematic pumps.
As per current information and reference, several 10th-generation Civic owners in Pakistan faced this same issue with the fuel pump. So far, some owners even replace it twice under warranty. If you are Civic owner and you experienced a situation that your vehicle stopped/ stalled without any apparent reason, it's time to check for the fuel pump.
Honda's Approach: 
Honda Atlas has not said anything officially about this ongoing fuel pump problem. Still, Honda Atlas has been replacing fuel pumps of number of 10th generation Civic in recent times, But only those which are in warranty. You are out of luck if you are out of warranty, and in other words, you will pay the price to get it fixed. Usually, when vehicles are recalled, the defective parts are replaced without any cost, even if the car is out of warranty timeline, and this is what Toyota Indus is doing.
If you are a Civic owner in Pakistan and you replaced the low-pressure fuel pump at your own cost, you might now have a reason to ask Honda Atlas to look into this matter and ask for a refund, although it has a very less probability. 
As Toyota Indus launched a campaign on this matter, Honda should not stay quiet on this subject and should investigate these pumps and generate a recall notice for PKDM Civic, if they find an issue. Civic X owners should not be paying for this fuel pump regardless of the age/ odometer reading of the vehicle.
Share you experience with us, if you faced any issue regarding fuel pump of your car. 
Update: Honda Announces Recall: 
At last Honda Atlas today also announced the recall of the fuel pump  for 2018/19 model year Honda Civic with 1.8L engine, 2018 model year BRV and 2018 model year Accord.  The official statement appeared on  Honda Atlas official social media page in the late evening ,  while this article was already published early morning on the same day.   Honda globally announced the pump recall on June 3rd, 2020.