The Pak-China friendship is not a new news at all. There have been many, and still ongoing deals, projects and development plans between both countries. However, our today's blog is centrally a posting on the future of Chinese cars in the Pakistani auto-industry.
Major Auto Companies In Pakistan:
 Notably, we have 12 auto companies listed on the Karachi Stock Exchange underneath the segment of Auto & Allied. The car diligence in Pakistan chiefly includes four players, all of which are Japanese. These are:
Pak Suzuki Motor Company Ltd.
Indus Motor Company Ltd.
Honda Atlas Cars Ltd.
Ghandhara Nissan Ltd.
Among these four, Pak Suzuki embraces the leading spot in the marketplace. Whereas, the market for buses and HGVs consist of National Motor, Ghandhara Nissan Diesel, and Hino-Pak Motor etc. Al-Ghazi Tractors, Master Motors and Millat Tractors make the tractors. Nevertheless, the main is again the leading stars which we are to discuss below.
The Leading Warriors!
While, we already have Toyota, Honda, and Suzuki ruling the automobile requirements for the public, the chances vary on many aspects. Though, the Ghandhara Nissan Ltd., also stands-in but approach for the public mainly revolves around the names of Toyota, Honda, and Suzuki. The major reasons for the success of these brands revolve around main pointers, for instance:
Market value of the company
Public liking
Value for money
Different models with varying specs and features
Availability of after sales services
Resale value
Build and Design language
For now, our public's response to new models, facelifts, and refreshers of these brands is quite eager. If China is planning to out-rule them, it has to strive something extraordinary to make people look-out for its cars. The game changing approach can only come with quality, price, and spec for starters with any of the Chinese cars.
 The Japanese Cars Period  
While the new auto policy sounds quite thrilling, the Japanese make is another rival for the Chinese cars. However, these are mostly used cars, which are imported in our country. The used car importations have been on an increase for more than five years. Merely in 2016 more than 43,000 used cars were imported to Pakistan. And that was quite up from stats of 2015, which was 28,000 as of reports. These imports have been prepared frequently by big dealers who also have workplaces in Japan. These sub-branches purchase the car, originate import and then sell those locally. Rendering to Pakistan Used Car Import Policy, up-to 5 years old (2012 headlong) Commercial Vehicles are permissible to be imported.
Despite anything, Japanese cars were and are another succession in the country, and the most popular of them are:
Toyota Vitz
Daihatsu Mira
Toyota Prius
Honda Vezel
Suzuki Alto 660CC
Suzuki WagonR
Corolla Fielder
Toyota Corolla Pro box
Toyota Aqua
FAW & Al-Haj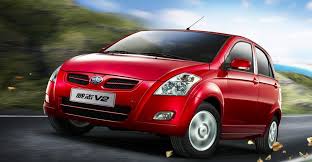 For current stats, the most notable Chinese brand in Pakistan is Al-Haj FAW. It is a Chinese group and is managed under Al-Haj FAW tag in Pakistan. FAW is one of the Chinese big-brand, which has started to come to Pakistan only in recent times. FAW Pakistan inaugurated their V2 Hatchback in Pakistan roughly in 2013 and it's the first generation too.
The existing-day car V2 is assessed at PKR 1,069,000, which in our view is a very fine-looking sum, naturally if you get the best value as well! The Chinese brand is offering you zero meter Chinese cars with a 3-year warranty and 3 free services along the deal with Al-Haj Group.
Without a doubt, it's an awesome technique to catch clients. But again, if the value for money is missing then you might not get what you were looking for. If Chinese cars need their stance to be held high, they need planning of action, not words!
Introduction To Zotye Holding Group
It's another big name of China, treading hot waters for success in Pakistan. The company is planning a joint venture with Habib Rafique Group. Again, the availability of its cars is going to be a big spark, but we highly doubt on the success rate. Things keep changing here and there, but if on bases of names only is the thought of feat, then they may think twice. Zotye is looking to display many of its models and variants, which are good in looks but again, the question relies on the major market value of after-sales and resale.
Public Opinions & Concerns 
If we look deeply into our research for popularity or do a ballot for any of these brands, we are quite sure that the main rulers, Suzuki, Honda, and Toyota will win more fan-followers. Chinese companies have been successful in many other fields of exporting and importing like machines, gadgets, mobiles, etc. But, the automobile division may not be their cup of tea, based on a few critical points:
Value added localization
Incentives
Price
Technology
Guaranteed Services
The Major Issues & Challenges
We are quite sure that our readers are very well-informed of the major setbacks with the introduction of Chinese Cars in Pakistan. And, the main highlights which may come as a HUGE hurdle in the future growth of Chinese cars are:
Technology Transmission In Chinese cars
The major concern with the Chinese cars industry is the lack of technology transmission to their associates globally. They need to transfer something different, and because of imitation of foreign cars and exclusive rights productions internationally, they can't do any better. We think if Chinese companies can provide and deliver something exceptionally better than what our cars already have then there may be chances of growth.
High Price-Tags
The increasing price-tags of Chinese cars is another setback to fully rule the industry in Pakistan. Though they do claim better quality or something equivalent to that of Korean and Japanese vehicles, we are highly doubtful in that part.  Hence, the increase in price is totally out of debate relying on the dependability of the car thoughts.
Shortage of Technical Support
Another huge problem with the Chinese companies and their foreign partners is the shortage of technical support along with language barriers. While, the engineers are not able to interconnect with their foreign cohorts, how on earth will they target Pakistan market? The Japanese brands are famous for doing a root-cause analysis for every minor dilemma. On the other hand, the Chinese do not take any notice in the root cause of the issue. This approach is another fall-out for any grand production of Chinese cars in Pakistan.
Non-availability of Spare parts
The availability and pricing of the spare parts of Chinese vehicles are equal to the Japanese vehicle spare parts for starters. Thus, the Chinese cars lose their lesser opening price affordability. Which, by all means not only happens for cars but also bikes etc. Though, a few brands like FAW may improve this with a new approach. Road Prince Company, another big name of Pakistan bikes and autos have been dealing with Chinese brands for bikes etc., in collaboration with Zongshen Motor. They, also quote, success being on par, and relying on these areas which we have already outlined above.
Underprivileged After-sales Service
The main impact on growth in Pakistan is also that Chinese companies are unable to deliver suitable after sales services. This again leads to mistrust and other business obligations as sales of the descent of Chinese cars until the resolution to the problem is open.
Conclusion!
What seems like a growth prospect for both countries is quite open for an adventurous success. China will need to grow and deliver value for money targeted vehicles if they are keen to explore Pakistani industry. Our people know the availability of hi-tech specs of internationally available variants of each and every brand, and a shortage of these may not be able to win their trust. A brand is a brand only if people can openly trust on their worth. Only with the help of low prices, the auto-industry of Pakistan may not be conquered by any of the Chinese companies. Your car is something to depend on in the longer run, and if it's not durable, it's not worth the buy!