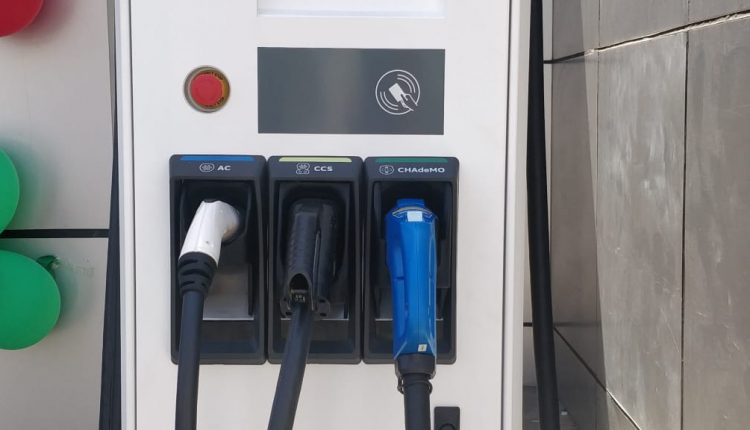 Around the globe, governments and auto manufacturing companies are focusing on promoting and producing electric vehicles to combat environmental changes, and the same is the case with Pakistan.  The current government is keen on promoting electric vehicles in the country.
Keeping in view the government's stance to promote EV cars in Pakistan, Gas and Oil Pakistan has introduced electric vehicle charging facilities across the country. Gas and Oil Pakistan Limited (GO) is the fastest-growing oil marketing company in Pakistan and has become the first OMC to introduce such a facility at its retails stores.
The inauguration ceremony was held on 15th May 2020. See the picture of the event below:
Note here that the first of these EV chargers have been installed at GO's owned and operated outlet COCO-3 near the Expo Center in Lahore. It is imperative to mention here that BMW and Audi have imported i3 and E-Tron in the country, which are electric vehicles. These EV chargers will surely help the customers of these cars.
While talking to media, Chairman and CEO, GO company, Khalid Riaz asserted that as a responsible corporate entity, the company aims to be at the forefront of taking initiatives for the environment. EVs are making an entry into Pakistan and GO's EV chargers will provide freedom to travel whenever the people want to go while using an environment-friendly mode of transportation, he added.
Moreover, Ammar Ali Talaat, Chief Strategy and Business Development offer at GO company said that they plan to roll out EV chargers at key sites including motorways and major national highways so that EV owners can travel in Pakistan without range anxiety.
The company commenced its business in Pakistan 5 years back and has the storage capacity of 196,000 MTs – the largest by any private OMC. It operates more than 550 retail outlets in Pakistan and is headquartered in Lahore.
That's it from our side, drop your thoughts in the comments section below.