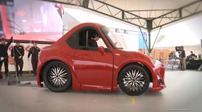 Gazoo actually builds a mini super car of a Toyota GT-86
Remember those mini super cars created on photoshop that make continuous rounds over the web and our emails? Someone at Toyota Racing came up with the idea of creating a mini GT-86/FR-S and partnered with Gazoo performance to build it.
Gazoo actually build the car live in front of the massive attendance that came to the TES festival 2012. It isn't a photoshop but actually, a real life sized working car built on the Daihatsu small trucks (Suzuki Ravi types).
Gazoo technicians brought in a Daihatsu Midget III on the stage, which is a single-seat mini-truck made by Toyota's subsidiary, stripped it down to the chassis and added huge alloy wheels, a sport seat and a four-piece body which looks like the GT-86 Coupe that was not shrunken in photoshop but actually created.
The video has been released but since Youtube is banned in Pakistan, we can't offer you to see the video but what you can see are pictures.