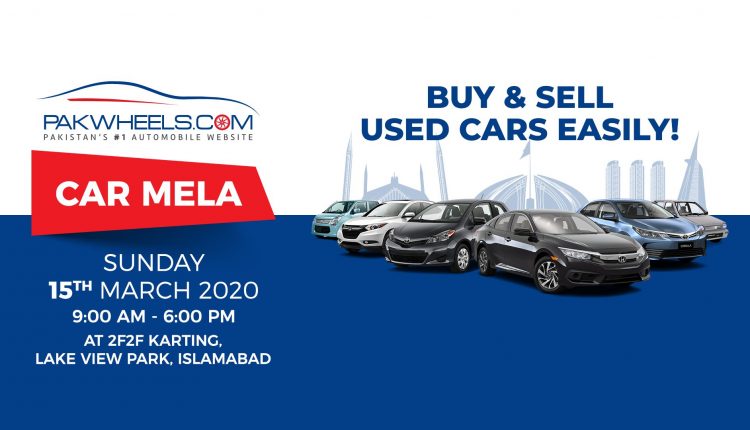 After conducting a successful PakWheels.com Sunday Car Bazar in Lahore, we are now coming to the Nation's capital, Islamabad, to organize a grand car mela – a transactional event where buyer and seller can come and sell/buy the vehicle. This is one of its kind events in Pakistan and surely a great sigh of relief for the people as well.
Mark your calendar for March 15th, 2020, for PakWheels Car Mela Islamabad to be held at 2F2F, Lake View Park, from 09 am to 6 pm. This will be the third episode of the event in Islamabad.
There is a huge used car market in the country, but many still find it hard to buy and sell a genuine used car. Appreciating this, PakWheels.com brings the seller and the buyer under one roof for an exceptional buying and selling experience. PakWheels Car Mela is one such platform.
Buyers will have hundreds of cars to choose from. Sellers will have a hassle-free experience in finding the right buyer for their car.
Just a reminder, PakWheels Car Melas are held in various cities, where hundreds of cars including SUVs, Sedans, Hatchbacks, and Kei Cars are parked for buying and selling purposes. In addition, the biggest attraction of these melas is the presence of a large number of Managed by PakWheels cars  – good-conditioned cars with inspection report attached.
Benefits of PakWheels Car Mela:
Hundreds of Cars for Sale
Great opportunity to sell your car
Presence of thousands of Genuine Buyers
PakWheels team can verify the auction sheet of cars
PakWheels team can inspect the cars at the venue
Get ready and be at the event on March 15th, 2020, at 2F2F, Lake View Park, from 09 am to 6 pm for a once in a lifetime experience.