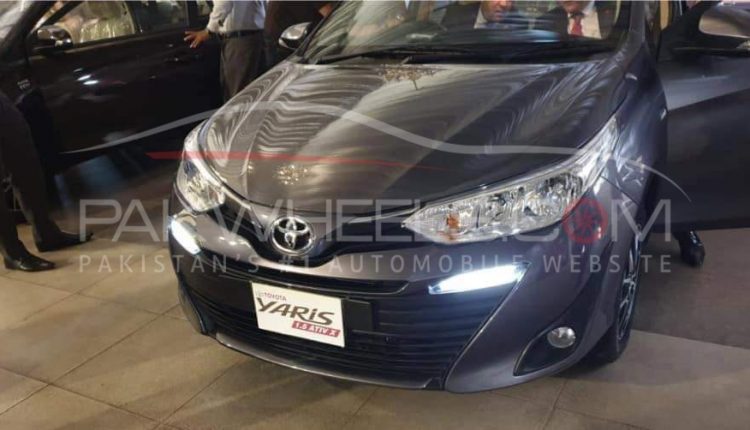 The 2020 Toyota Yaris is already creating waves of anticipation and excitement in the auto industry of Pakistan. This sedan is set to rival the Honda City in the country. We brought you exclusive new pictures of the Yaris to give you an idea about what to expect once it gets launched officially.
The launch date of Yaris:
As per our sources, the expected launch of this new sedan is expected to be the 27th of March. In some global markets, you can also find Yaris under the name of Vios. Toyota Yaris is going to replace the 1.3L variants of Corolla: XLi and GLi. The Yaris will come in six variants:
GLI MT 1.3 from 23.99 to 24.49 lacs

GLI CVT 1.3 from 25.48 to 25.99 lacs

ATIV MT 1.3 from 24.99 to 25.49 lacs

ATIV CVT 1.3 from 26.49 to 26.99 lacs

ATIV X MT 1.5 from 26.99 to 27.49 lacs

ATIV X CVT 1.5  from 28.59 to 29.09 lacs
Therefore, there are four 1.3L variants and two 1.5L variants. The above-mentioned prices are all ex-factory prices. All variants of the Yaris are expected to have rear drum brakes. The top-of-the-line variant, ATIV X CVT 1.5, will have contemporary features like push-button start, climate control, hill assist control, smart entry, and traction control. 
These features are going to give a huge advantage to Yaris over other competitors in the market. These features will attract those buyers who want a small sedan with cutting-edge and new features. The new pictures highlight features like two-tone colored interior, infotainment system, alloy wheels, spacious boot, VVT-I engine, climate control, DRLs, and power windows. We will bring a detailed list of specifications once the Yaris gets launched on the 27th of March.
Stay tuned for more news on the 2020 Toyota Yaris and drop your thoughts in the comments section below.