As the world is getting indulged into the plug-in era of vehicles, Geneva International Motor Show 2019 has been yet another show dominated by the electrically powered machines. While the show is still open for the visitors, there is a lot to talk about how this year's exhibition in Switzerland is leaving a larger footprint on the global automobile industry. With one of the world's largest attended motor shows, Geneva brought excitement for all the auto enthusiasts in 2019.
The Geneva International Motor Show 2019 begun on 7th March and will continue till 17th March with curtains being taken off a number of futuristic concept cars including the plug-in and hybrid versions of several auto-giants around the globe. Hypercars are yet another aspect of innovation and advanced technology display. Like other international auto shows around the calendar, Geneva offered a fantastic opportunity to all the automotive manufacturers to floor in with their world premieres.
Before taking long, let's have a glimpse of which auto giants with their incredible machines participated in this extraordinary event held in the most beautiful part of the world.
 ABT:
ABT jumped in this year's motor show with three models named Audi Q8, e-Transporter, and RS4+. The ABT Audi Q8 is a 6-cylinder diesel engine SUV with 2967 displacement producing 330 hp or 243kW power coupled with an automatic transmission. The company's e-Transporter is an entirely electric version based on the Volkswagen T6 featuring an automatic transmission and producing 111 hp (82kW) power. ABT RS4+ is a 6-cylinder petrol driven station wagon delivering up to 530 hp (390kW) with its powerful engine.
Aston Martin:
Lagonda All-Terrain concept is the first SUV-styled production model. It uses the zero-emissions platform and based on the Lagonda's vision concept. Aston Martin Lagonda's AM-RB-003 is the first of its kind V6 engine powered hypercar developed by the manufacturer. The company has also scheduled the production of its Vanquish vision concept which is the first mass-produced mid-engine supercar, in 2022.
Audi:
Audi's fifth electric car named Q4 e-Tron is powered with twin electric motors delivering 225kW power with an 82 kWh battery pack. The company claims that it will have a range of more than 450 km on a single charge and the model will go into its production by the end of 2020. Alongside Q4 e-Tron is the plug-in hybrid Q5 TFSI e SUV which is combined with a 2.0 TFSI 4-cylinder engine delivering 299 hp on the back of powerful Lithium-ion 14.1 kWh battery. The line-up at Geneva motor show includes another plug-in hybrid sedan A6 TFSI e with an electric range of more than 40 km with a dual-clutch transmission, one producing 299 hp while the other one was boosting up to 367 hp. Audi's sedan A7 TFSI e comes with the similar specs as the A6 TFSI e. However, the company's A8 L TFSI e is a Quattro-drive plug-in hybrid sedan with a 3.0 TFSI V6 engine integrated with an automatic torque converter which delivers 449 hp.
Bentley:
Bentley motors introduced its all-new 4-seater convertible Continental GT with 6.0-litre 12-cylinder engine delivering 635 hp coupled with 8-speed dual clutch transmission and 4-wheel drive with a top speed of 333 km/h. Bentley's luxurious crossover Bentayga Speed features a 6.0-litre W12 engine producing 635 hp with a top speed of 306 km/h. The manufacturer is also displaying a special limited edition of 100 Continental GT Number 9 cars which is believed to be inspired by the motor racing history of Bentley.
BMW:
The BMW's luxury plug-in hybrid 745e is up for display at the show which is powered with a 6-cylinder engine along with an electric motor generating 394 hp. Alongside is the BMW's X5 xDrive45e which is a new all-wheel plug-in hybrid SUV with a 6-cylinder engine. The advanced battery technology used in this particular model extends the electric range of the SUV to 80 km. BMW 330e joins the event which is a 5-door plug-in hybrid sedan with a rear wheel drive mode coupled with an automatic transmission. Its 4-cylinder engine delivers 252 hp which can be boosted by further 41 hp with an electric range of almost 60 km. On the other side, the 6.6-litre V12 twin-turbo engine features in the BMW M760Li xDrive which cranks 585 hp and 850 Nm torque with a top speed of 305 km/h. The dynamic looking BMW Alpina B4 S Bi-Turbo Edition 99 has a 6-cylinder engine delivering 452 hp and as its name suggests, only 99 units are available globally. The last one is the BMW Alpina  B7 Bi-Turbo is a 4.4-litre V8 sedan that delivers 608 hp.

Bugatti:
The highlight of this year's show has been Bugatti's La Voiture Noire, an all-black version of Type 57SC Atlantic powered by an 8.0-litre W16 mid-engine which generates nearly 1500 hp. It also became the world's most expensive car ever sold at $19 million. While celebrating its 110th anniversary, the company revealed a limited edition of 20 Chiron Sport which is also a W 16 mid-engine powered car producing 1500 hp with a top speed of 420 km/h.
Citroen:
Citroen is displaying its Citroenist concept in a camper van which features a living space and workplace in a van. It also offers sleeping space for two persons in its compact design. The company has also brought an alternative to public transport in an all-electric two-seater concept car Ami One which is exclusively designed to serve personal mobility.
Ferrari:
Ferrari is present at the show with its F8 Tributo which features a 3.9-litre V8 engine cranking 720 hp and torque of 770 Nm. The car can accelerate up to a top speed of 340 km/h which is tremendous in terms of power.
FIAT:
FIAT is celebrating 70 years of the Abarth with up gradation of their Abarth 595 Esseesse which refers to the models of the 1960s. The upgraded 595 Esseesse is a compact yet powerful unit equipped with a 1.4-litre turbo engine technology which can produce a power up to 180 hp. On the other side, the company is paying homage to the Abarth 124's FIA R-GT Cup victory back in 2018 with a special edition of Abarth 124 Rally Tribute with only 124 units. It's a 1.4-litre  turbo-engine packed vehicle with a top speed of 224 km/h producing 170 hp and 250 Nm torque.
Honda:
Honda is displaying its E-prototype at the Geneva motor show 2019 which is based on the 2017 Urban EV concept. The company will start the production of this rear-wheel-drive electric car this year. The car is expected to have a range of more than 200 km on a single charge.
KIA:
KIA is presenting its 3 models at the world premiere including Niro Hybrid crossover which is equipped with a 1.6 GDI engine paired with a 1.56 kWh battery alongside the electric motor. The crossover has a dual-clutch transmission with level-2 assistance features. KIA has also introduced the plug-in hybrid version of Niro at Geneva motor show 2019. KIA's plug-in hybrid crossover has similar specs to the hybrid version other than the heavy duty 8.9 kWh battery back. It has the electric range of a maximum 65 km. Next is the concept electric car by KIA named as 'Imagine'. The vehicle indicates a progressive design language which is an excellent blend of an SUV, sedan, and a crossover.
Lamborghini:
Lamborghini has landed at this year's show with its most powerful convertible model Aventador SVJ Roadster. With a top speed of more than 305 km/h, this is an exceptional 4-wheel drive car packed with a 6.5-litre V12 engine producing 770 hp and almost 720 Nm torque. Besides it, Lamborghini has Huracan EVO Spyder displayed which is an open version of the Huracan EVO Coupe. This model is a 5.2-litre V10 engine that delivers a stunning output of 640 hp.
Maserati:
Maserati is showcasing its sportiest SUV Levante Trofeo with an up gradation in terms of engine power. It's the launch edition of the vehicle which is limited to just 100 units equipped with a 3.8-litre  V8 engine that cranks 580 hp output power under the four-wheel drive SUV.
Mazda:
Mazda holds CX-30 in its showcase display at the motor show which is a compact SUV equipped with all the latest assistance features. The production model will be a petrol driven hybrid SUV under an all-wheel-drive mechanism. It's somewhat a middle version of CX-3 and CX-5 in terms of body dimensions.
McLaren:
The open version of McLaren 720 S has participated in this year's show. McLaren 720 S Spider is powered with a 4.0-litre V8 engine that generates extra-ordinary 720 hp and 770 Nm of torque. The car can achieve a speed of 325 km/h with an open roof whereas it can go as fast as 341 km/h in the closed mode.
Mercedes-Benz:
Mercedes-Benz made its entrance in the show with the special edition of its CLA 200 Coupe powered by a 1300cc engine that cranks 163 hp under 7 gears. Next in the lineup is the V 300 d 4MATIC which is a 2.0-litre diesel powered MPV. The manufacturer has coupled it with 9-speed automatic transmission. CLA 250 Shooting Brake is a 5-door city car under a petrol driven engine with front-wheel drive mode. Last but not the least, GLC 300 4MATIC also features a facelift model of the SUV which comes along a 48-volt starter generator. The all-electric concept version of EQV is another MPV in the Mercedes-Benz display in Geneva. It's powered with a 100kWh battery pack that provides a range of nearly 400 km on a single charge.
Mitsubishi:
Mitsubishi presented the concept of its Engelberg Tourer as a plug-in hybrid SUV which is a 6-seater vehicle. On the other hand, the company's best seller ASX also gets a newer version with several more safety features included in the SUV.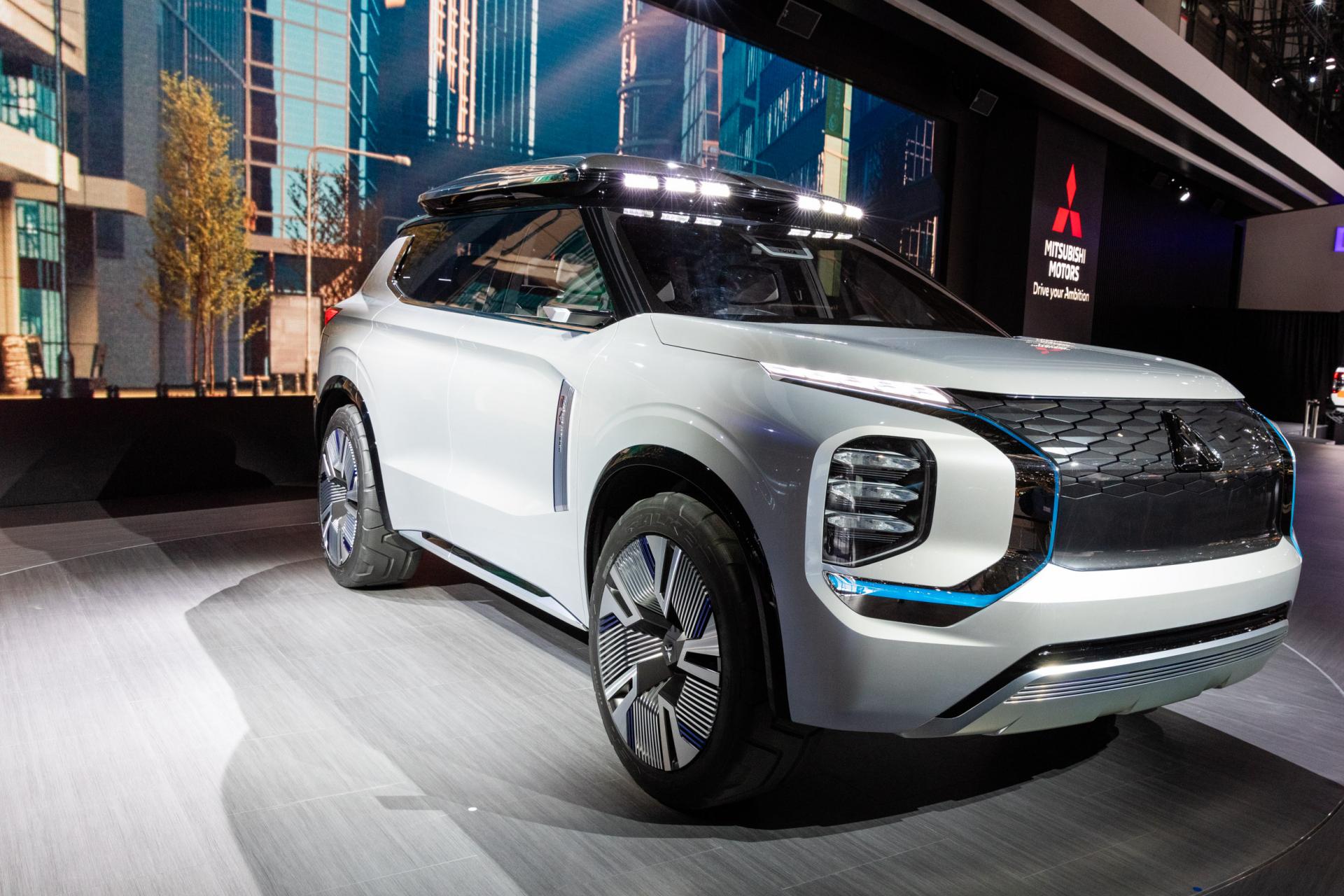 Nissan:
Nissan is heading towards the futuristic crossover. The auto manufacturer is displaying its IMq Concept which is based on the next-generation e-Power drive system. With a 1.5-litre turbocharged petrol engine, it is equipped with a compact traction battery as well. The crossover is powered by two electric motors which deliver 250 kW power along with 700 Nm of torque.
Peugeot:
Peugeot is keen with its Sport's vision by producing low carbon emission vehicles. One of its episodes is the Concept 508 which has a petrol engine under the hood along with a couple of electric motors; the front produces 110 hp while the rear delivers 200 hp on top of the 200 hp generated by the petrol engine. It has an electric range of nearly 50 km. On the other hand, New 208 based on the CMP platform offers three types of energy sources including petrol, diesel, and electric with the front-wheel-drive modes. The electric version is named New 208 e which is the first one built by the auto manufacturer under this platform. It has 100kW electric motor supported by a 50kWh battery pack which allows you to travel 340 km on a single charge with a maximum output power of 136 hp.
Porsche:
The new version of the old 718 Boxster and Cayman is released by Porsche at the grand show. The all-new models have a flat-four turbocharged engine that generates 300 hp and provides a scintillating Porsche driving experience in both the vehicles. Porsche's iconic 911 in its 8th generation is celebrating its world premiere as a convertible 911 Carrera S Cabriolet which is claimed by the company to be powerful than ever. The S in its name indicates the rear-wheel drive mode while the 4S model is an all-wheel-drive car. The 6-cylinder engine coupled with automatic transmission generates an output power of 450 hp.
Renault:
Renault has ensured its presence at the mega event in Geneva with its 5th generation of all-new Clio that is a combination of evolution and revolution in its real sense. The interior gets a new design language. However, the model is petrol front-wheel driven with an automatic transmission. Another compact hatchback is the Twingo which gets a refreshed look along with a revised engine under the latest emission standards. It's a city car under a 3-cylinder petrol engine producing 93 hp with a rear-wheel drive mode.
Skoda:
The front-wheel-drive Kamiq is the latest SUV of Skoda which is expected to be launched in September this year. The SUV has a 3-cylinder petrol engine which cranks 115 hp under an automatic or manual transmission. On the other side, a prototype of Vision iV is displayed which is the company's first electric vehicle based on the MEB platform of Volkswagen. It will have a range of nearly 500 km on a single charge as there is an electric motor on each axle which also makes it an all-wheel-drive vehicle.
Toyota:
Toyota brought their GR Supra GT4 Concept for world premiere which is a turbocharged 3.0 inline 6-cylinder engine sports car for international GT4 series.
Volkswagen:
Volkswagen is showcasing its sporty top crossover model T-Roc R which has progressive steering to support the sports suspension. It's equipped with a 2.0-litre 4-cylinder engine which powers the crossover with 300 hp and 400 Nm of torque. This model has a top speed of 250 km/h along with the provided dual clutch transmission. Another invention by Volkswagen has come in the shape of a buggy which is entirely electric. However, it's just a concept displayed by the manufacturer. The versatility of vehicle continues as the next one in the line-up is the MPV Multivan 6.1 powered by a diesel engine. It has large screen displays with a substantially upgraded model. Moreover, Touareg V8 TDI also gets a 4.0-litre diesel engine version which generates 421 hp and has a top speed of 250 km/h. It's also the most powerful model of Volkswagen at the moment.
Geneva International Motor Show 2019 will eventually cross the finishing line on 17th March 2019. It is one of the most significant events held as compared to the previous years in terms of the latest technology and participation prospect.
For more updates on this and other automobile related news, stay with PakWheels.
Photos Source: https://www.gims.swiss/