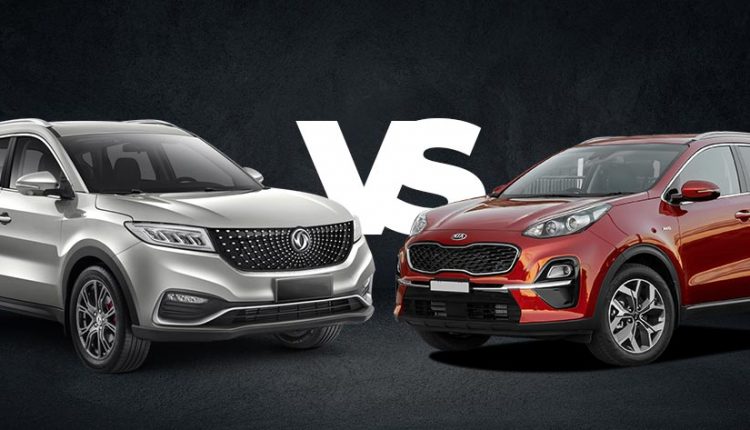 Glory 580 Pro Vs. KIA Sportage-A Comparison
We are here with another highly-demanded comparison, and this time it is Glory 580 Pro Vs. KIA Sportage. In this brief comparison, we will compare the engine, power train, seating capacity, variants, interior and other features of these cars.
Earlier, we brought a comparison between Glory 580 Pro and Hyundai Tucson for our readers.
So, without any further delay, let's jump right into the comparison.
Engine and Power:
The Glory 580 Pro comes with 1500cc Turbocharged engine, producing 150hp at 5600 RPMs and 220Nm Torque at 4000 RPMs. Meanwhile, KIA Sportage has 2000cc Naturally Aspirated engine, which produces 155hp at 6200RPMs and 196Nm Torque at 4000 RPMs. This means although Glory Pro's engine is smaller in size, but as it is Turbocharged, it produces higher torque and almost similar horsepower against Sportage.
Glory 580 Pro Vs. KIA Sportage-Transmission: 
Glory comes with a CVT transmission, While KIA's SUV has 6-Speed Automatic transmission, making DFSK's car more advanced in this segment.
Glory 580 Pro Vs. KIA Sportage-Variants: 
KIA Sportage comes in three variants, i.e., KIA All Wheel Drive (AWD), Front Wheel Drive (FWD) and Base Variant known as Sportage Alpha. Meanwhile, DFSK's SUV comes only in FWD variant. Henceforth, this comparison is between KIA Sportage FWD and Glory Pro.
Dimensions and Exterior: 
Sportage has the height of 1635 mm, length of 4485 mm and width of 1855 mm. Meanwhile, Pro is 1715mm high, 4680mm long, and 1845mm wide. This means Pro is higher and longer than its competitor, while it is less in width.
Furthermore, both cars come with LED front lights. Meanwhile, Pro has heated, and electric side-view mirrors with a 360-degree camera on it, but KIA has only electric and heated side-view mirrors. Also, both vehicles come with parking sensors. 
Additionally, both vehicles come with 18-inch alloy rims. 
Seating Capacity: 
KIA Sportage has the seating capacity of 5 people; meanwhile, up to 7 persons can sit in the Glory Pro. 
Voice Command: 
Glory Pro has a state-of-the-art feature called i-Talk. Through this latest feature, you can open/close windows of your car, attend/reject phone calls, control AC temperature and number of other features in your car, while using your voice.  However, Sportage does not have this feature. 
Glory 580 Pro Vs. KIA Sportage-Infotainment System: 
The SUV by KIA has an 8-inch infotainment touchscreen; meanwhile, the size of the screen in Glory is 9-inch. 
Seats: 
In the comparison of Glory 580 Pro Vs. KIA Sportage, we will come to know that Glory Pro comes with leather seats, while Sportage FWD has fabric seats in it. 
 Price Comparison: 
If we compare Glory 580 Pro Vs. KIA Sportage, we will know that price of Pro is Rs4,400,000, while the rate of Sportage FWD is Rs4,899,000, making Pro a cheaper vehicle against its competitor.