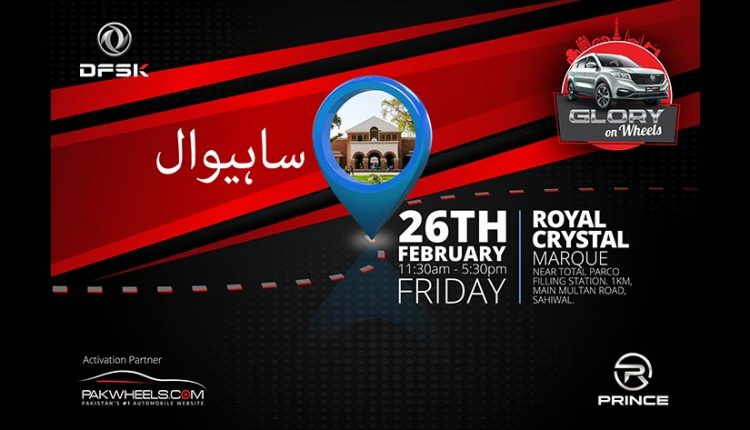 Glory On Wheels: The Test Drive Show Goes On!
As the Glory On Wheels journey continues, Pakistanis are having fun experiencing the thrill of DFSK SUVs. The 21-day long event started last week in Karachi, on the 18th of February. Till now, two Glory 580 Pros and one Glory 580 have hit six major cities, offering test drives to the public. 13 more days, and 9 more cities to go! 
DFSK, the parent brand of Glory SUVs, have partnered with PakWheels to host this test drive event. Alhamdulillah, so far, the event has received an overwhelming response from the public. Thousands of people attended this "Glorious" show of DFSK in each city. After successful shows in Karachi, Hyderabad, Sukkar, Rahim Yar Khan, Bahawalpur, and Multan, the Glory SUVs are now headed to Sahiwal, the next city on the Glory On Wheels schedule. 

Be a part of "Glory On Wheels"
Hundreds of Pakistanis have gotten a taste of the premium Glory SUVs and absolutely loved it. You can too, here's how:
Step 1: Find your city (or the nearest city) in the Glory On Wheels schedule and mark the day on your calendar.
Step 2:  Keep your National ID card and driving license ready. 
Step 3: Follow PakWheels Facebook Page to find out the venue of the event.
Step 4: Join the event between 11:30 AM and 5:30 PM and enjoy the test drive of your favourite Glory SUVs. 
Don't miss out on this opportunity to feel the power and thrill of the premium SUVs in your town. Join in on the Glory fun; we will be waiting for you! 
P.S. DFSK and PakWheels appreciate the participation and feedback of everyone who joined us in the six cities. Thank you for making Glory on Wheels a success. See you soon Sahiwal, Faisalabad, Sargodha, Lahore, Sialkot, Gujranwala, Gujrat, Islamabad, and Peshawar.