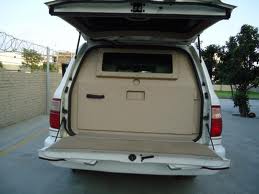 Government allows duty-free import of bullet proof cars
The government has finally decided to allow the duty-free import of raw materials used in bullet proof cars as many high profile figure including ministers and government officials facing life threats from terrorists.
The ECC (Economic Coordination Committee) of the cabinet had taken the decision after Prime Minister had given orders to constitute a committee to deliberate, and frame policy proposals, for duty-free/concessional import of armour-protected vehicles.
Even though the decision for allowing duty-free import of armoured cars was long due because the ECC was further informed that considering the concessions already available on the import of armored vehicles, the committee was of the view that if complete exemption of duty is allowed, it would render armored vehicles cheaper than their comparable models of normal vehicles.
As a consequence of the entire security situation, the ECC made the decision to allow the duty-free imports but also encouraged investment in new technology for local armoring after KP Chief Minister Ameer Haider Khan Hoti, in a letter to Prime Minister Yousaf Raza Gilani, had highlighted two distinct cases.
According to him, Iftikhar Hussain, KP information minister, is one of the prime targets of terrorists. His only son Arshad Hussain was killed, and the tragedy was followed by a suicide attack on the mourners in his native village.
KP Chief Minister further stated that provincial minister Bashir Ahmad Bilour had been targeted on four different occasions.
Thr KP Chief Minister had sought permission to import duty-free import of three bulletproof (B-7) vehicles for himself and two of his colleagues.
The ECC had allowed the Chief Minister and his colleagues to import duty-free bulletproof vehicles.