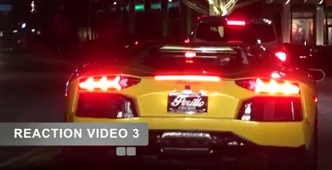 Lamborghini Aventador owner tries to score girls through his car
If you remember the episode of Top Gear where Jeremy Clarkson went out with his Pagani Zonda F Roadster to see whether if its true or not that girls come automatically to you if you have a super or hyper car. He was disappointed as only the male gender was all that was interested in the Pagani Zonda F Roadster which by the way he described as the best of the best.
So here's one Youtube user "DoctaM3" who recently bought the best handling, sounding  and looking Lamborghini ever, the Aventador. He thusly went out with his yellow Aventador to test the theory Jeremy Clarkson proved wrong and the results were, quite amazing.
The video is almost 15 minutes long, and there's at least a couple of girls wanting to take their pictures taken with or in it, and they are not you typical grease-monkeys either, we'd even go as far as to call them hot. So all you need to get attention is to go to a place where people are drinking and having fun, open the doors and let the magic happen, or do I need to buy some baggy pants as well?