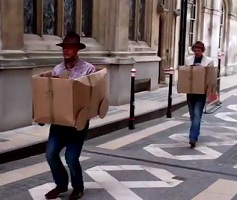 Two fans make a Top Gear parody approved by Top Gear itself
Top Gear is a lot of fun, but, if you put your analytical glasses on for a few seconds, you notice that the show uses the same recipe for every episode, with Clarkson endlessly mocking something, May showing that he is or isn't all that slow and the trio being involved in a challenge, with the icing being a lot of eye candy of fast, shiny cars.
So here are two Top Gear fans gone out to film a parody of the greatest and best automotive show we have our seen on our TV sets.
One fan acts as Jeremy Clarkson and the other as Richard Hammond and while the bloke who acts as Clarkson does do a really good job but I had quite a bit laugh watching the entire parody which was done on Top Gear's episode on electric cars from the last season where Jeremy and Hammond race in their electric cars as a challenge from the producers.
Top Gear's executive producer, Andy Wilman also approved of the parody through releasing a short-clip of his on Youtube praising the parody and inviting everyone to watch it.