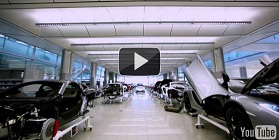 BBC's programming may not be of my interest majorly but when they decide to satisfy the automotive enthusiasts, they tend to satisfy them in a way that leaves waiting for more, from them.
Seems as if the BBC have some really cult automotive enthusiasts who shoot what they personally want to see and thats just the right way to do it.
With extraordinary access to one of the country's most secretive companies, this shows how Formula One racing team McLaren is now building a road car using some of their F1 technology.
During the summer of 2011, McLaren launched the MP4-12C. It is claimed that this 168,500 pound super car is one of the most cutting-edge and glamorous machines ever built and shows British design and precision engineering at its best.
The program goes inside the McLaren factory, meets the team of engineers and McLaren boss Ron Dennis, and discovers how the car has been designed, tested and built from scratch, including its unique carbon-fibre 'monocell' technology and its engine – the first the company has ever built. Plus the film finds out what racing drivers Jenson Button and Lewis Hamilton think about the car and there is a look at how its sound was created in a studio.
To build the car the company also had to build a brand new facility. The film follows events as production starts and discovers if the huge investment – and gamble – looks like paying off.
Watch or save it as long as it is on youtube.