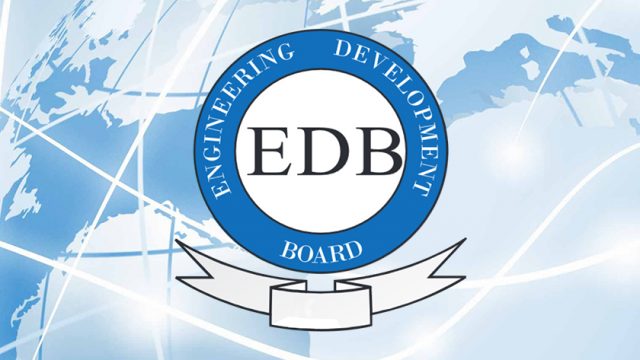 On Thursday, 17th January 2019, the Federal government has appointed Almas Hyder as the new Chairman of Engineering Development Board (EDB) that has been reconstituted.
The Engineering Development Board (EDB) was disbanded by the previous administration of PML-N due to corruption and various other issues. After taking the charge, PTI government in October 2018 decided to restore the EDB for the betterment and growth of industry in Pakistan. The lineup for the board members of the Engineering Development Board (EDB) has been finalized from the current PTI government. According to the sources, the board will include secretaries from various departments as under:
– Secretary Finance
– Secretary of Science & Technology
– Secretary Industries Production
– Secretary Commerce
– Secretary Defence Production
– Chairman of Federal Board of Revenue (FBR)
However, private sector members have also been kept into the board lineup which will include Syed Nabeel Hashmi, Muhammad Faisal Afzal, Engineer Khawar Anwar, Nauman Wazir Khattak, Nasir Hameed, Khawar Toufeeq Sheikh, Saqib h Shirazi, Muhammad Murad Saigol, and Abbas Akbar Ali. The board members would also include representatives from various new entrants in the automobile industry of Pakistan such as Renault Al-Futtaim.
Read More: The revival of the Engineering Development Board
Abdul Razzak Dawood who is the Prime Minister's advisor on Commerce, Textile, Industries, Production, and Investment; in a press conference told that the Engineering Development Board (EDB) has finally been restored for uplifting the auto sector. The decision of federal cabinet has been praised by the industrial leaders who believe that it would provide an opportunity for the further growth of industry in the country. Dawood is also keen to make all-out efforts in the growth of the industry through a properly managed and planned way. According to him, EDB is bound to resolve all the auto sector issues in a smooth way. On this occasion, he also told that the board will be given a task for the introduction and transfer of new technology in the local auto sector. The core purpose of EDB is to strengthen the engineering sector in the country and play a role in its integration with the global market for economic growth.
The industry is hopeful of prosperous growth and manufacturing of auto parts locally to reduce the deficit of import it faces every year. It will also ensure maintaining the quality standards as adopted in the global market for the best-finished unit.
For more happenings in the automobile sector, stay tuned to PakWheels. If you have any suggestions, mention them in the comments space below.