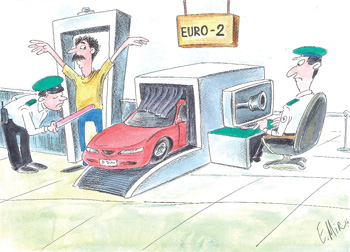 Government directs car assemblers to shift to Euro-2 technology by July 2012
In what seems to be an unprecedented decision, Ministry of Disaster Management has directed all auto companies to implement Euro-2 technology in their vehicles by July 2012.
Sources say that a meeting in this regard was held in Islamabad, which was headed by Ministry of Disaster Management secretary Javed Malik and participated in by the Environment Protection Agency (EPA) director general (DG) Asif Shuja Khan, Development Engineering Board chairman Aitzaz Niazi, EPA Punjab director Naseem ur Rehman Shah, representatives of automobiles manufacturers and oil refineries.
It was revealed that all the key issues related to environment were discussed in the meeting and MSD secretary Jawad Malik had given deadline to the automobile manufacturers to shift the vehiclesí technology from Euro-I to Euro-II.
Euro-I and Euro-II are the European emission standards defining the acceptable limits for gas emitted by car's exhausts. The emission standards are defined in a series of European Union directives staging the progressive introduction of increasingly stringent standards.