The Government of Pakistan has once again gone on to do the only one thing they are good at; increasing the custom duties. It looks like they have researched and exploited every available industry to fill their pockets. This time they have targeted the Super bike imports. Instead of bringing reforms for the introduction of Motorsports in Pakistan, they are encouraging the affected to get Non-Custom-Paid bikes.
The rates have experienced a sudden increase from a constant charge of $ 4.25 /CC to;
$9.53/CC for 1000CC bikes
$13.26/CC for 600CC bikes
Detailed rates could be seen in the attached image.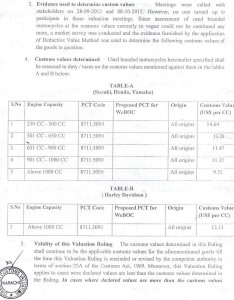 A simple demonstration:
Yamaha R1 2012 1000CC (UK Cost £ 11,000 Ebay)
Total updated cost 2.6 million instead of 2.0 million
Yamaha R6 2012 600CC (UK Cost £ 8,000 Ebay)
Total updated cost 2.4 million instead of 1.6 million
Such a drastic increase! Not to mention the steep devaluation of Pakistani Currency (PKR) that has rendered the Sterling (GBP) quite out of reach.
The irony of this situation is the fact that this keeps happening; first the imported cars and now bikes. Some would say that the Government has taken these measures to protect the Balance of trade and payments but this doesn't mean that the society must be deprived of decent quality products. Even if these measures were taken to protect the local industry, what do the Pakistanis get?  Let's take an example of local automobile industry; we have highly inflated prices but crappy cars. The locally assembled sedan category commences with PKR 0.6 million Suzuki Mehran (Is that even a car?) and goes on to PKR 2.4 million for Honda Civic (I guess, we would all agree to the fact that this car is not even close to meeting the International automobile standards).
The said rates won't effect new bikes alone rather a much deeper effect would be absorbed by the local second-hand market; this change would shift the demand from new imports to already-imported bikes and any bike which could now be bought for PKR 0.6 million would be climbing PKR 1.0 million in no time. This duty valuation would become the advent of cruelty, where many futuristic bikers would let go of their passions. Who knows that in absence of these tariffs, one of us could have been the Casey Stoner or Valentino Rossi?
Also Check Out: Heavy Bikes for Sale