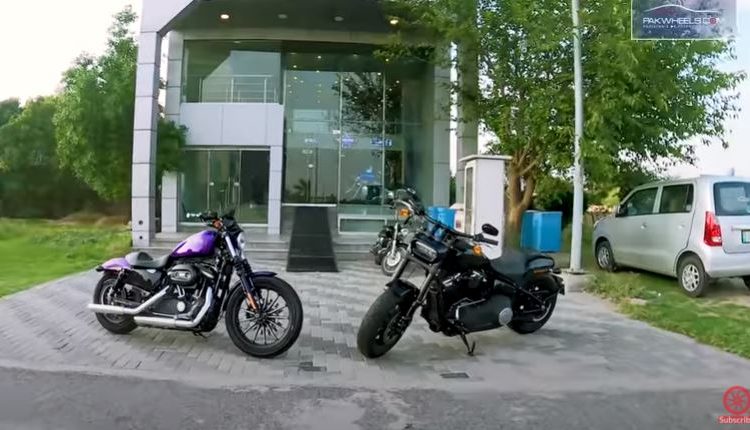 Harley Davidson HD 883 & Fat Bob: A Walk Around
PakWheels has exclusively brought a walk around review of two Harley Davidson bikes, HD 833 and Fat Bob, for you. We will share the salient features and major differences between these two bikes.
Harley Davidson HD 883: 
The HD 883 is an entry-level bike in Pakistan, and its best feature is its smooth maneuvering. The bike is effortless to handle; even girls can drive it very easily. This is the 2014 model in purple candy color. It came to Pakistan in 2016 and had 2017 registration.
Price: 
This bike was very much available in Rs1.4-1.5 million a few years back. But due to high dollar prices, it now costs around Rs2 million. Furthermore, its new models cost about Rs3.4 million.
Engine Power: 
The bike's engine power is according to its name, i.e., 883cc with 54FT/LBS Torque at 3500RPM. Meanwhile, the motorcycle has an EFI fuel system.

Sitting Arrangement: 
The bike comes with a single-seat, but you can always install a pillion seat to it.

Maintenance of Harley Davidson HD 883: 
Harley Davidson was designed during World War while keeping low maintenance aspect in mind. The makers developed this bike so that anyone can repair it during the war. These bikes come without any complicated wiring or mechanics. You just have to change its oil regularly, especially keep a close eye on its Prime Oil, which is also its gear oil. If you keep changing these oils periodically, these bikes will not create any issue up to 1,500,000-200,000 kilometers.

Maintenance Cost:
The prices of oils of these bikes range from Rs1500-3,000; hence it can cost around Rs15,000 per oil change. You must use specific oil for these bikes.
Pros and Cons of HD 883: 
The plus point of this bike is its very easy maneuvering and maintenance.
Harley Davidson Fat Bob: 
This company changed the shape of this bike in 2018, and it is a 2019 import. This is a street bike by Harley Davidson and best for short travel within a city. The company has modified its intake and exhaust to get more power out of it. Furthermore, it has a bigger fuel tank.

Engine: 
The bike comes with a very powerful 1868cc engine with 118 LB/FT Torque at 3500 RPM. This bike has the Electronic Sequential Port Fuel Injection (ESPFI) system.  

Price: 
The current price of Fat Bob is Rs6.2million.
Maintenance of Fat Bob: 
Like HD 883, the maintenance process of Fat Bob is similar; you just have to change oils regularly, grease the clutch wires. As it is a bigger bike, the cost of an oil change is also a bit higher.
Air Cooled or Liquid Cooled Engines in Harley Davidson?
The engines of both bikes are air-cooled and do not create any issue in even 42-43C temperature. The owner should change the oils rather quickly in summers.
Vibration in Harley Davidson Bikes: 
The debate over vibration in Harley Davidson is very old, but this is these bikes' identity. If you want a Harley Davidson, it comes with the vibration because they are very different from Japanese bikes in ride and feel.
Can You Take Harley Davidson on Long Routes?
Yes, you can take these bikes on long routes, be it mountains or other parts of the country. The Harley Davidson bikers have a special group that regularly travels across Pakistan. Interestingly, they have a group captain, unique hand signs, and proper hierarchy to move in unison. The bikers get special training before joining the group.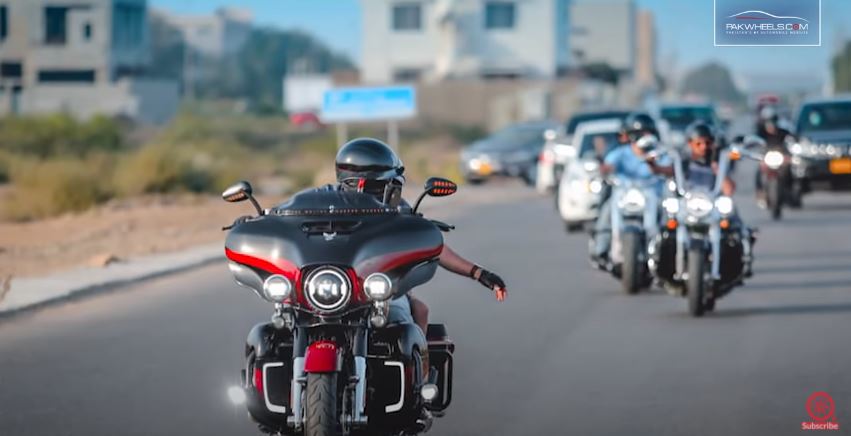 On long routes, you have to drive carefully in heavy rain and should not ride the bike in puddles on roads because it can damage the electronics of the bike.
Watch Video Here: