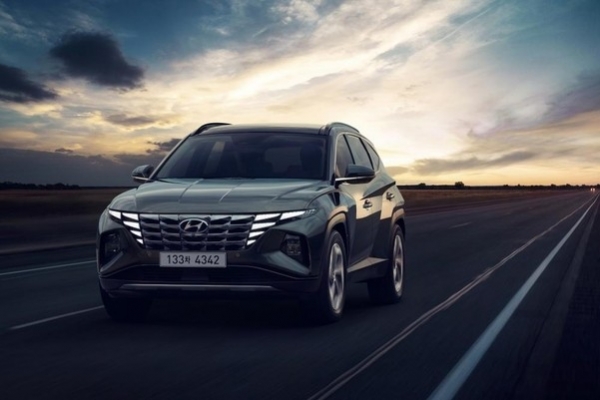 All New 4th Generation Hyundai Tucson Revealed!
Hyundai has released the look of all new Hyundai Tucson for international market today. Globally, Crossover Utility Vehicles / CUV and Sports Utility Vehicles/ SUV have seen unprecedented demand in the last decade. But there are specific names in this regard that were alive way before. Famous and market leader in the segment like Honda CR-V, Toyota Rav4 arrived mid 90's era. Hyundai Tucson, a C-SUV/ Crossover-SUV [medium size vehicle by category], joined the club in the year 2004 as the first generation.
"Tucson" is based on the name of a famous city from Arizona, United States; Hyundai sold over 5 million units globally. Out of which around 1 million just in the US since the first generation. One can imagine Tucson's importance for the Hyundai brand. After multiple teasers in recent weeks, Hyundai lifts the curtain off the all-new 4th generation, Chassis Code NX4 Hyundai Tucson.
Exterior: 
In the last few months, multiple images of the camouflaged prototype of Tucson hit the web. Many enthusiast graphic designers created renderings based on it. One thing was very much evident,  new Tucson will be revolutionary inside and out. Tucson's 4th generation is entirely unique and does not share anything with the outgoing model. Although Tucson shares its unibody chassis with the new 7th generation Elantra. It reflects the next generation of brand identity. Hyundai calls the new design philosophy, "Parametric Dynamics," which is bold and angular.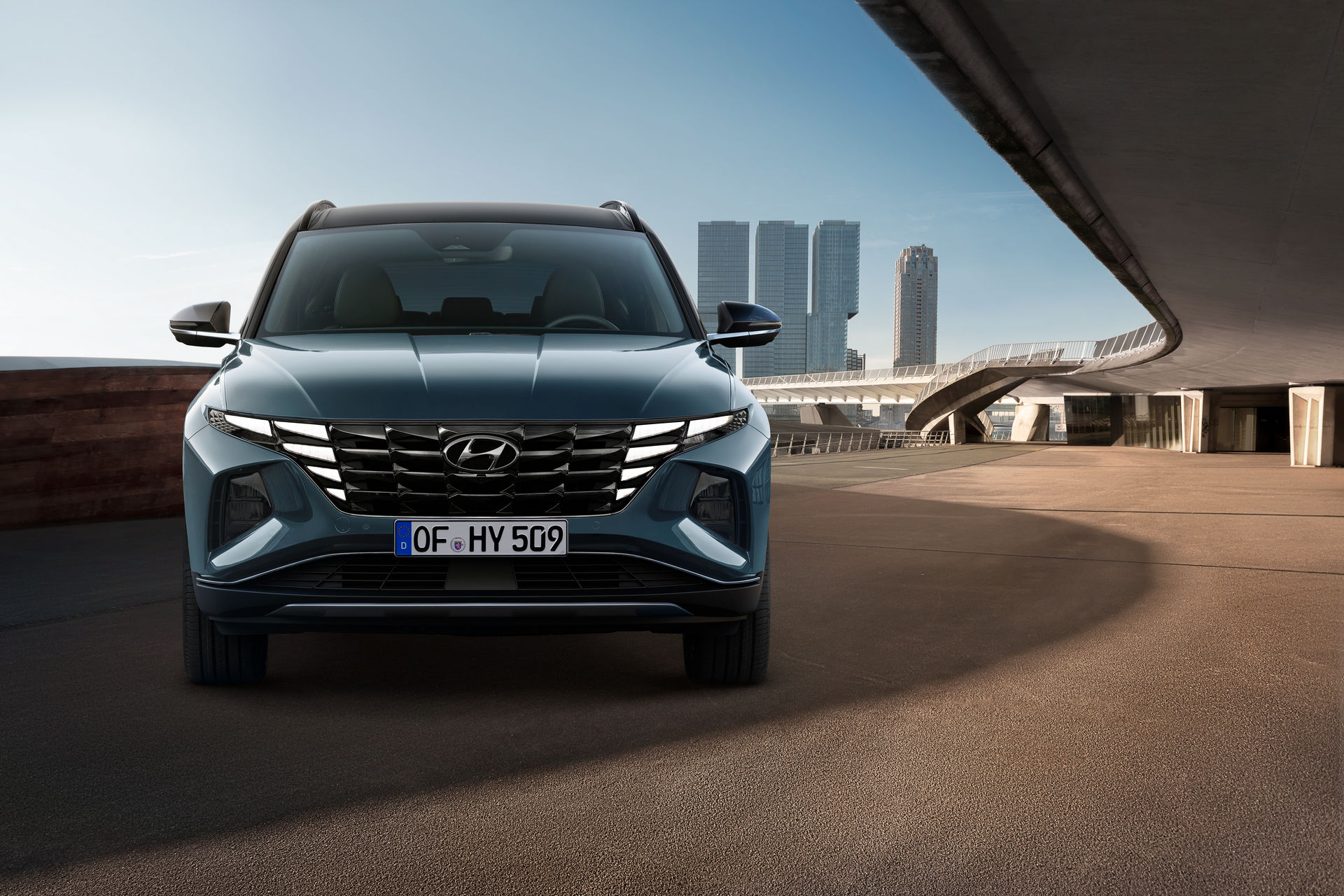 We can call Tucson's new design theme an iteration of design we saw earlier for Hyundai's latest 7th generation Elantra. Hyundai defined that design as 'Sensuous Sportiness". The new Tucson is bigger and wider than the previous generation. As per Hyundai, a longer hood and shorter overhung are designed with a stretch wheelbase, giving it a sporty look. Like the new Elantra, Tucson's body panels incorporated chiseled interfaces, unlike the conventional design approach. This provides an impression of forwarding motion. Meanwhile, the bulky fenders give it a wider hardcore stance.
Front Look: 
On front, Hyundai integrated jewel-like DRL/ Daytime Running Lights within the front grille opening, again a new signature design of Hyundai. When the lights are not on, they get hidden within the grill. Aggressive looking front and rear bumpers come with a diffuser.  Meanwhile split slanting twin taillights on the rear with connecting light bar make things dramatic, especially at night. In the dark the rear taillights glow like the letter "H" representing Hyundai. The back also gets a hidden wiper arm under the spoiler. The brand log is now also on the rear glass instead of the truck conventionally, you would see a wiper arm on this particular location.
Interior: 
Unlike previous generations of Tucson, which looked more of prior designs' evolution, the new Tucson gets a complete makeover. Like the exterior, Hyundai spent a decent amount of time on the inside. Hyundai defines the new Tucson "INTERSPACE" interior with utmost comfort and convenience. The foundation for interior design comes with technology neatly integrated. Minimalist, simple, and elegant dashboard blends into the front door panels for continuity, giving a premium vehicle look. Meanwhile, discrete slim air vents make things very classy and sophisticated. There is twin silver metal garnish, going all around the interior, front to rear.
Tucson gets the option of adjustment customize-able ambient lighting with 64 color options and ten levels of brightness. There are two 10.25″ digital screens, one behind the steering wheel as instrumental panels. The other one is stacked in the middle as an infotainment system. Hyundai calls it a waterfall design, and it is the main highlight of the interior. 
More Features in New Hyundai Tucson:
You can change Many car settings from the main head unit. There is a button-operated shift by wire transmission on the central console, which free up space. Furthermore, Hyundai has also removed the conventional parking brake. At the same time, there is also space underneath the central console stack. Tucson also comes with an air quality monitoring option with an air purification system. There is also a lower moisture evaporator to reduce HVAC odor.
Tucson also comes with a digital key that uses Near Field Communication (NFC) technology, and the authorized user can operate the car without a physical key. Users can lock/ unlock, start and control other functions like climate control, 90 feet away from the vehicle. Higher trim levels also get a premium Bose audio music system. Dual-zone climate control, voice control features are also available like Amazon Alexa/ Google Home, which can control your smart home appliances from your Tucson control panel. According to Hyundai, the new Tucson has an improved interior space and cargo capacity. Official numbers have not been released yet as far as footprint, but the new Tucson has 1095 liters of cargo space with rear seats fold flat.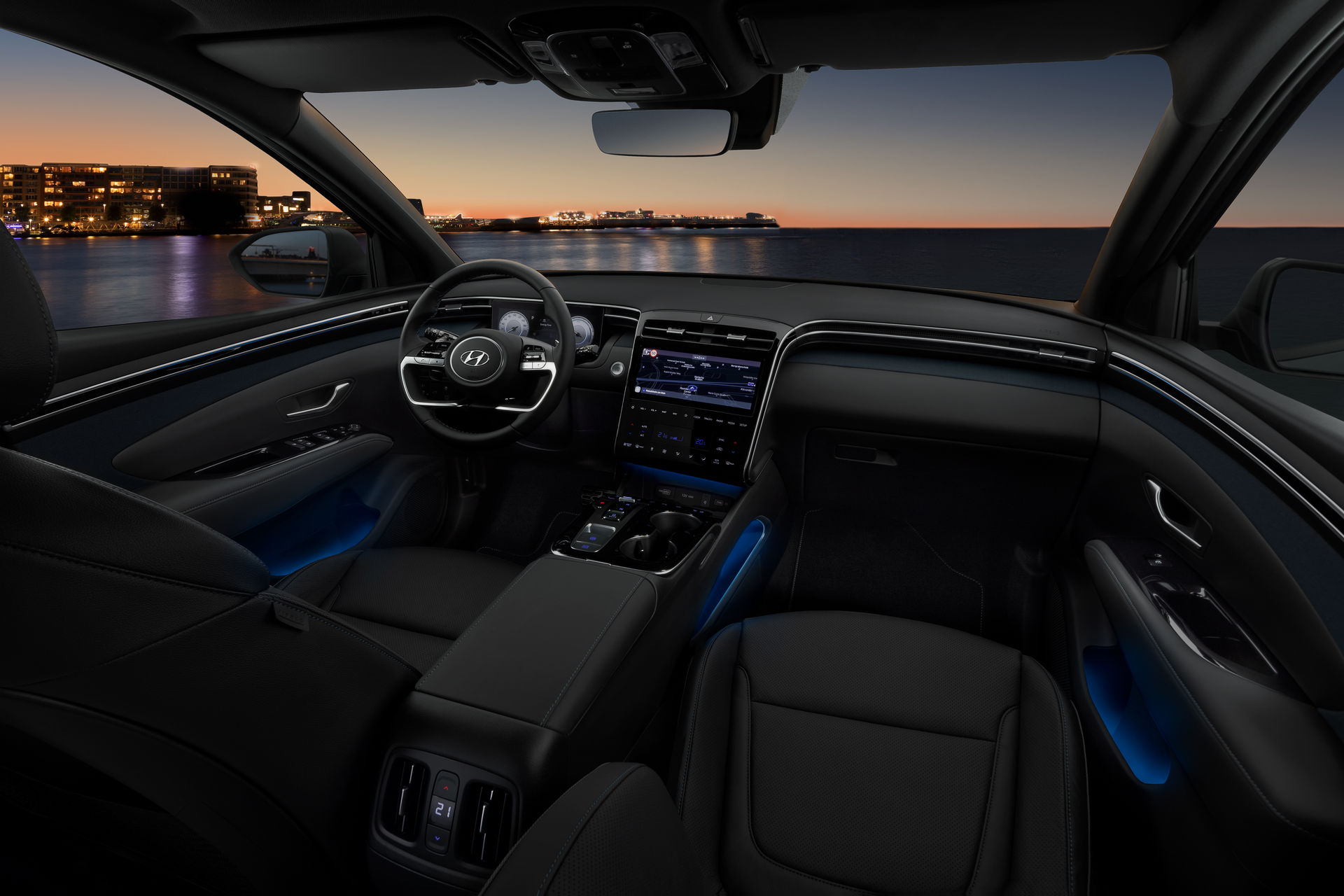 Safety Features in New Hyundai Tucson: 
As of safety, there is a long list that will be available on the new Tucson. The manufacturer has equipped the new Tucson with the Hyundai SmartSense package, which includes; Highway Driving Assist (HDA), Forward Collision-Avoidance Assist (FCA) with pedestrian detection, and Lane Keeping Assist (LKA). The other features include Lane Following Assist (LFA), Blind-Spot View Monitor, Blind-Spot Collision Warning (BCW), Surround View Monitor, and Reverse Parking Collision-Avoidance Assist (RPCA).
The company has also installed Remote Smart Parking Assist (RSPA), High Beam Assist (HBA), and Driver Attention Warning (DAW). Additional features are Blind-Spot Collision-Avoidance Assist (BCA) with Rear Cross-Traffic Collision-Avoidance Assist (RCCA), Advanced Smart Cruise Control (SCC) with Stop and Go and Safe Exit Warning (SEW). A 360 camera will also be available.
Power Train of Latest Hyundai Tucson:  
Depending upon the market, Tucson will be available with various engine options, including hybrid and plugin hybrid. Not enough details are known at this time, but there are various engine options, i.e., 2.5L 4 cylinder GDI engine 187hp, 2.0L MPI with 154hp, 1.6 Turbo GDI with a power output of 177hp or 148hp. There is also a 1.6 Turbo GDI with a 48V battery as mild hybrid, and it is available in two power bands, 177hp or 148hp, depending upon the variant.
As of diesel, 1.6 VGT /Variable Geometry Turbo with multiple power outputs. The same engine is also available with a 48V battery pack as a mild hybrid. A more power 2L VGT is also available with 183hp. As of conventional hybrid, there will be 1.6L Turbo GDI,226hp, and 350NM of torque. The same engine will be offered in Plugin hybrid versions as well, with up to 262hp.
Electric power steering, Multi-link rear suspension with MacPherson at front suspension will be standard. Hyundai will also offer Tucson in HTRAC / Hyundai AWD system . HTRAC is calibrated and improved for the 4th generation of Tucson, which comes with Eco / Comfort / Smart / Sport driving modes. Hyundai will add three more; Mud, Sand, and Snow driving modes in certain regions.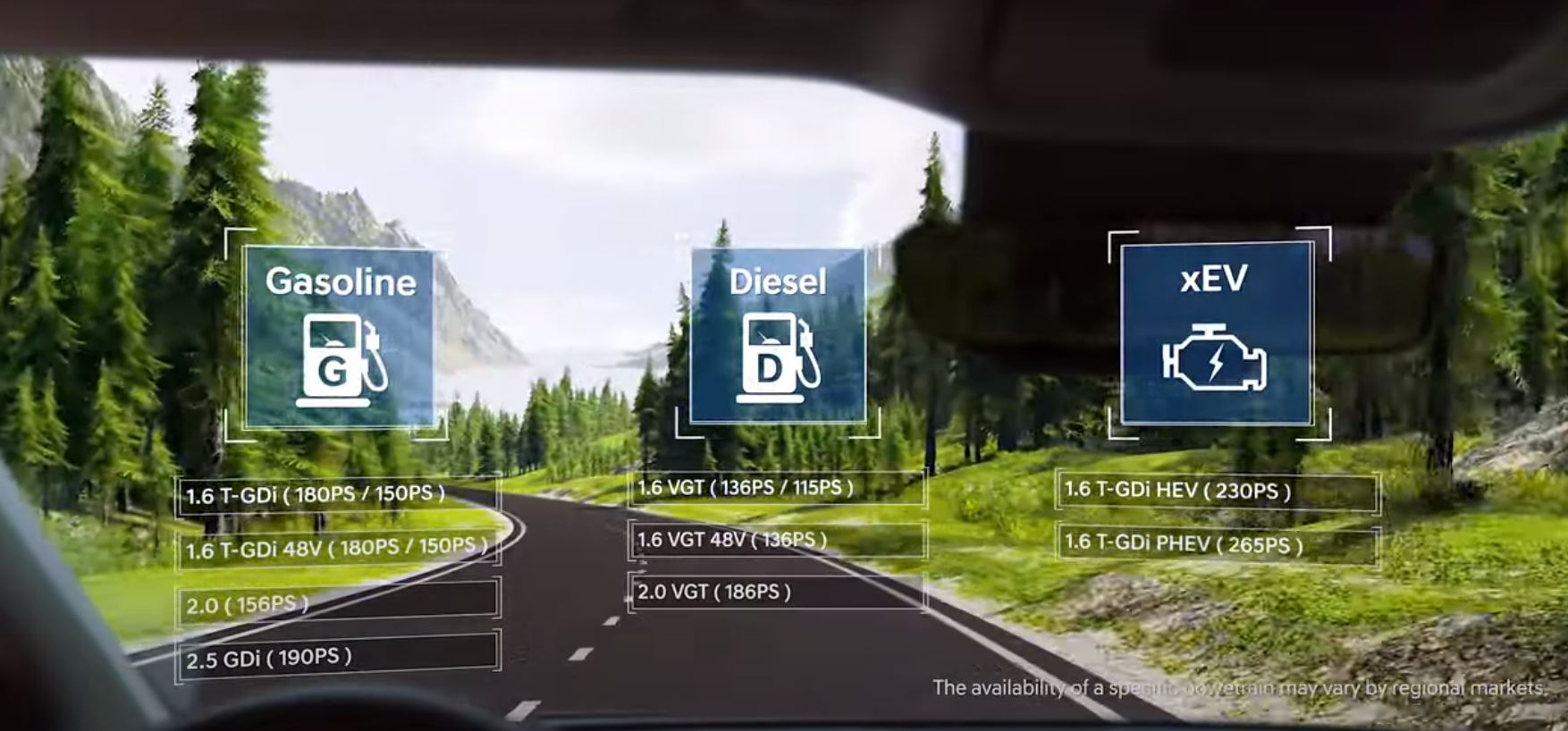 Overall the new Tucson is stunner with all new design language although it can be polarizing to some and this is subjective. After Elantra , the new Tucson reflects the new brand identity and design direction and we will see that in future models which includes the Santa FE which will be getting a complete makeover in near future.
Global Launch of 4th Generation Hyundai Tucson: 
The new Tucson will go for sale in Korean market soon while next would be North America where it will be available at dealers lot sometime early next year/ Spring 2021.
Is New Hyundai Tucson Coming to Pakistan Any Time Soon? 
We are sure many following the reveal of new Tucson in Pakistan would be anxious to know if we will get the new Tucson. Unfortunately, we can safely say that it will not happen, keeping in mind that Hyundai Nishat just started delivery of 3rd generation local assembled Tucson in Pakistan with deliveries already slated for August 2021 onward.
Switching to a newer generation is not possible that quickly operational/ production-wise and the investment it needs. Hyundai Pakistan has first to recover some level of investment they have put in place before switching to a newer generation.
Because of the operational timing of Hyundai -Nishat, We think we will not be able to enjoy the 4th generation Tucson in Pakistan for the next few years. Let's hope Pakistani buyers get their hands on the new Tucson sooner. Unluckily, Pakistani consumers will also see a discontinued obsolete 6th generation Elantra when Hyundai offers it sometime soon.