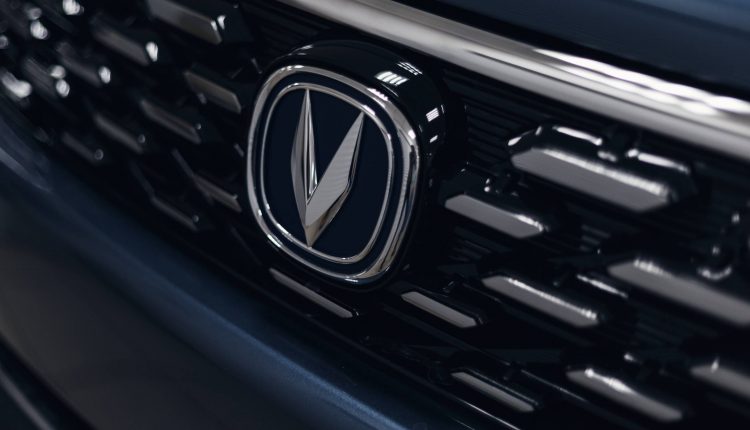 Has Changan Just Hinted a New Car Launch?
Changan Master Motor has recently entered the local market, and it has received excellent response. After the launch of its sedan, Alsvin, the company registered record-high bookings. One of the major points behind the success of Alsvin is its price, which is the second-lowest in Pakistan. But the company got the attention of consumers again with new teasers and hints. In the last couple of days, Changan Pakistan has uploaded posts intriguing petrol heads. These posts have started a guessing game online as people are predicting the real meaning of these posts.
Teasing by Changan: 
The teasing started when Changan changed the cover photo of its official Facebook page. The photo has three words, "Future, Forward and Forever", but interestingly, all three words are partially hidden.

In the second post, Changan wrote: "When we say "future", we don't mean thought experiments that will never see the light of the day. We're talking about a future that's tangible, a future that we can bring to Pakistan."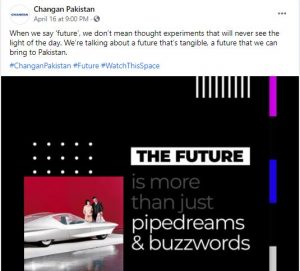 In the third such post, the company said: When we say "forward", it's not just a path we're on. It's a mindset that we embody every second of every day and implement in literally everything we do. Guess what our next push forward will bring for Pakistani roads?"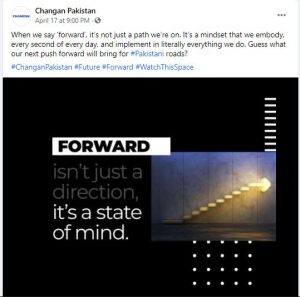 So, one thing is confirmed, a new car is coming, but the question is, which one? Will it be another sedan or Changan is entering the compact SUV category. Based on recent sightings, the company is all set to launch a compact SUV in Pakistan. Recently, Changan's three SUVs, UNI-T, Oshan X7 and CX70T, have been spotted on local roads. So, our guess is, one of them is coming to the local market soon.
The Three SUVs: 
The first spotted SUV was CX70T, which has a 1.5-litre turbocharged engine with a 6-speed automatic transmission or an efficient 6-speed manual transmission. The car has a maximum output of 147hp at 5500 rpm with maximum torque of 230 Nm at 2000-4000 rpm. Click here to read about the specs and features of this vehicle.
The second one is UNI-T, which was launched in China in March 2020 and presented for sale in June 2020. The car has a 1500cc Turbocharged engine, which produces 180hp and 300Nm torque, mated with 7-Speed DCT Transmission. However, the company also offers it in a 2.0L engine. To know more about this SUV, click here. 
Last but not the least is Oshan X7, also with a 1500cc engine, 178hp and 265Nm torque. The company offers it in both 6-Speed manual and 7-Speed DCT transmission. If you want to read more about it, click here.