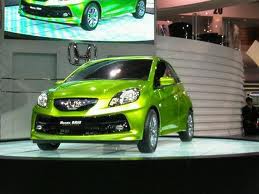 Hatchbacks after hatchback after small cars gives India what Pakistan needs since its inception
Honda India has launched another small hatchback into the Indian market, bringing their line-up of cars offered to six which include the newest Brio, Jazz, City, Civic, Accord and CR-V.
This attempt is to capture the ill-attended market segment of small cars by most of the manufacturers who are working tirelessly to grasp this huge market before anyone else. The small car market may offer less profits but due to higher sale figures, the combine profit is quite large than the slightly upscale sedans like City, Civic or Accord.
VW's recent partnership with Suzuki which now is in the process of a divorce was aimed at such markets. VW with the help of Suzuki's expertise could've stepped further in its race to become the world's largest automaker but due to this huge market left unattended by VW, the race has just gone a bit a longer.
Honda of India launched its cheaper car yet, the Brio, 80% of its parts are made locally which Honda aims to increase to 90% localization, it is powered by a 1.2-liter gasoline engine and is priced between 395,000 INR and 510,000 INR and it will be competing with Maruti Swift and Ritz, Hyundai's i10, Toyota Etios Liva and Ford Figo.
Therefore, I put it you, is it fair for Atlas Honda to make cars just for the rich when Honda has such a beautifully priced range of cars that could cancel all thoughts about Import schemes of Pakistan Government.
RELATED: Small Cars for Sale
Honda have such a good range of cars that can compete with Pak Suzuki's crap but they do not bother to look in that range of small cars rather cry to the Government for making the auto assemblers fall into complete disarray. I say, if you can't offer everyone a car than you should be in a predicament position because of your incompetence.