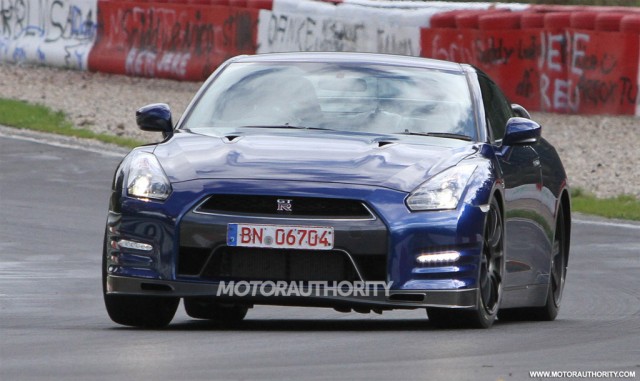 2013 Nisan GT-R spied while lapping Nurburgring with a lot of new aero-dynamic aide
It took only a matter of few days for photographers to catch the more powerful 2013 Nissan GT-R lapping The Green Hell a.k.a Nurburgring with a host of new aero accessories, including an aggressive front lip spoiler, side skirts, bootlid spoiler and revised rear wing, can all clearly be seen.
However, it is still not clear whether this is a regular model in testing or the long-rumored new high-performance SpecR or track-only special which is expected to replace the slow selling–and highly overpriced–SpecV and weigh in around 130 pounds less than the regular GT-R.
In addition to a lighter body, the prototype seen here is expected to be running more power than the 523 horsepower 2012 model, perhaps as much as 570 horsepower.
The power increase will surely reduce the GT-R's already mental acceleration times even further, but that's not all that's in the bag–expect a series of updates to the suspension and transmission programming to reflect the additional output emanating from under the hood.
Picture via MotorAuthority.