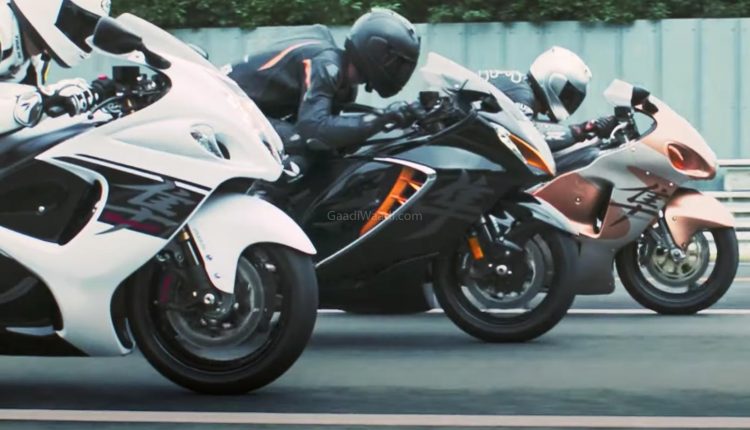 Hayabusa Launch Video LEAKED Days Before Debut  
In not a good news for Suzuki, but a great one for bike enthusiasts, the launch video of Suzuki Hayabusa has been leaked on the internet. Due to COVID-19 restrictions and lack of work, the leaks have become rare, so, this one is huge. As per reports, the company is all set to release the superbike on February 5th, 2021. What looks like an official video by Suzuki, it shows the complete shape and information cluster of the bike.
What Video Shows: 
Front: 
The video shows three models of the bike, i.e., 1998-2007, 2008-2020 and the latest one. The new one immediately stands out because of its sleek design. It has a new fairing with pointier 'nose' and massive air curtains. Furthermore, the front lights are new, which are framed by two boomerang-shaped LED clusters. Meanwhile, the side view mirrors are positioned lower, which will surely improve the driver's visibility when he/she'll be tucked in.
Rear: 
If we come to the back, we'll see it is also pointier, which creates symmetry between the front and the back. Furthermore, the pair of overly long mufflers has been replaced by angular and shorter units, making the whole-body shape athletic and leaner.
Windscreen: 
The bike seems to have a new instrument cluster. Although the layout is similar to the old generations, the company has modernized every feature. The TFT screen has replaced the old LCD. Meanwhile, RPM, fuel, speedometer and engine temperature gauges are still analogue. A closer look at the TFT screen will reveal that bike is sticking with 6-Speed Gear Transmission. The video further shows that the bike will have all-new and modern Suzuki Drive model Selector (SMDS-a).
Engine: 
As for as engine is concerned, we don't have any information about it. It is not clear whether the superbike will come with the older engine or a newer one. We only know that the bike will have Euro 5 compliance, as it is making a comeback in the European market.
Hayabusa in Pakistan: 
The Hayabusa bikes officially came in Pakistan in 2013 and was available on Suzuki's dealerships across the country. However, after a couple of years, it stopped. The reason maybe is the low demand and specific customer market for the superbike. We hope that Suzuki would bring the new bike officially in Pakistan.