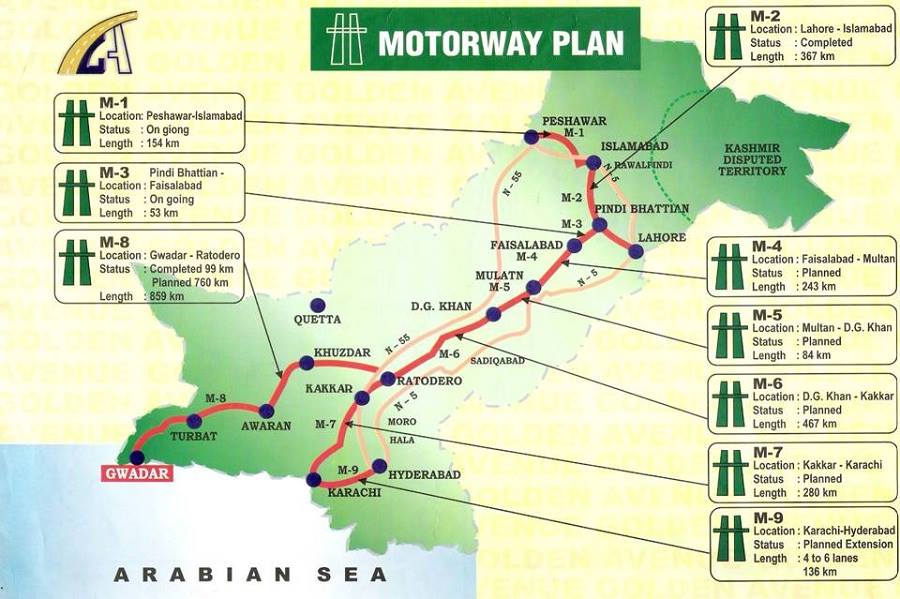 Here's the entire planned motorway network for Pakistan
The motorway network has now started to magnify. Motorway that initially connected Lahore to Islamabad will now connect the entire major cities of Pakistan to affluent the business hubs of Pakistan. Currently, 3 motorways are under construction:
1. Peshawar to Islamabad
2. Pindi Bhattian to Faisalabad
3. Gawadar to Ratodero
Whereas, 5 new motorway plans are in the pipeline which the Prime Minister has ordered to begin on as soon as possible basis.
1. Faisalabad to Multan
2. Multan to D.G-Khan
3. D.G Khan to Kakkar
4. Kakkar to Karachi
5. Karachi to Hyderabad (Extension Planned)
The planned, 136 km long, Karachi-Hyderabad Motorway has had all its major work done, except 200 acres of land that come in Jamshoro area according to NHA and hopefully, the work on the motorway will start this year.
Let's hope that this mega project brings fortune in the road network and business community of Pakistan so we can see our economy making breakthroughs in the near future as this project intends to achieve.