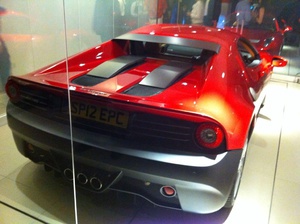 Here's the one-off V12 Ferrari 458 made for Eric Clapton
Eric Clapton is an English songwriter and guitarist as he known for worldwide and Ferrari loves such rich and exclusive customers and tries to please them by offering one-off models tailor made to their demands.
We all know about Sultan of Brunei's collection of exotic cars and how he had many rare special tailor-made cars for himself especially but this v12 powered  Ferrari 458 is another example how Ferrari build special cars for anyone who has the money to make Ferrari do it.
This amazing and one-off possibly V12-powered custom Ferrari 458 Italia is designed to look like the Ferrari 512 Boxer but it's called the Ferrari SP12 which debuted last night at a London exotic car dealership.
The SP12 is custom-design altogether as you can judge by the headlights which look like they are straight off from the Enzo which is because it is said to be a homage vehicle to the legendary Ferrari 512 Boxer.
These are the only images released to the internets while all the rest of details and pictures will be revealed through Ferrari Magazine.