Honda Pakistan has finally revealed the car they have been teasing about for some weeks. Although people were expecting something new, the revealed car ended up to be the regular Honda City with some minor updates. Honda City 2017 has officially been launched.
Also Read: Honda Atlas Pakistan Launching a new City or a Civic?
As mentioned above, the new Honda City 2017 has been launched with few updates. One of these updates is the shark fin antenna. It wouldn't be wrong to say that Honda Atlas ran its whole marketing campaign of the new car around the image of that antenna and labeling it, "Accelerating Perfection".

Other than that shark fin antenna, there isn't much going on with the new iteration of this shape of City. The update now offers faux wooden accents for the interior and door panel trims. Honda Pakistan has also introduced chrome door handles in the 2017 City along with other tidbits.
Arguably one of the biggest change is the availability of the 1.5L engine in Honda City i-VTEC trim along with the 1.3L model. Previously, the 1.5L engine was only available in Honda City Aspire Trim. Both 1.3- and 1.5L City variants will offer either 5-speed manual or the 5-speed Prosmatec Transmission.
The price structure of the Honda City 2017 (all available trims) is as follows: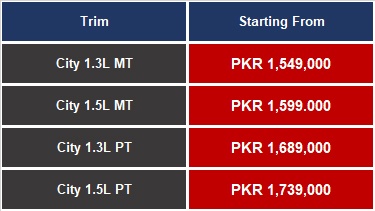 The price structure of the 2017 Honda City Aspire (all available trims) is as follows:

Optional features are priced as follows: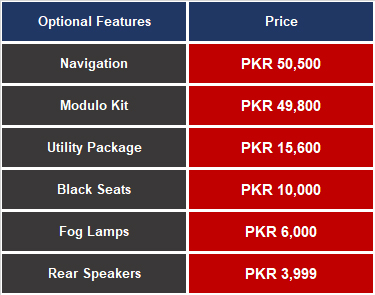 The 2017 City Aspire will be sold with the new Immobilizer while it's optional in the regular City i-VTEC trim. Turn signals in side mirrors are also standard on all trims. Honda City 2017 will be available in 7 seven colors. And of course, there is that shark fin antenna as well.
Let us know what you think about the new City in the comments section below.