A few days ago Honda Atlas Pakistan Limited  [ HAPL ] shared a teaser image and asked its viewers if they are ready. I posted a detailed blog with my personal opinion and discussed probability about different products. In my article, I predicted about the 6th generation Honda City, Honda Mobilio, Civic Hatchback, Honda Jazz, Honda Brio and lastly predicted about an improved and updated Honda Civic Turbo variant.
Last evening Toyota Indus was busy at an exclusive event where the face-lift Corolla was launched. Social media was buzzed with the pictures of the event. While enthusiasts were busy discussing the new Corolla, around the same time, Honda Atlas posted another teaser image on their social media page and Honda Atlas official website and took over all the attention and thrashed the party. This time Honda posted a shadow image showcasing a portion of the vehicle roof with shark-fin antenna. As soon as the image was posted it went viral and a new discussion started with new predictions and guesses.
When I saw the image, I got excited too and started reading the opinion of people on social media. Everyone has their opinion in form of a Civic Type R, Civic Hatchback to Honda Accord, Civic 1.5 Turbo, Honda Brio, CR-V and last but not the least the 6th Generation Honda City.  Many enthusiasts even predicting another face-lift to the recently face-lifted Honda City.
Let's go over different options one more time on basis of the teaser with the assumption that the teaser image by Honda reflects a truly real vehicle. Or in other words, let's assume this image is of an actual vehicle which Honda Atlas is hiding from all of us at this time and creating a suspense.

I used a simple photo enhancement tool and it revealed some more details. As visible above, one can easily see the rear sloped glass a typical design for a sedan.   If you see the enhanced image you will agree that it cant be any hatchback or any SUV like CR-V as both of these vehicles have a rear lid spoiler. Also as the hatch/tailgate opens upwards, there is a wider gap between the hatch and the roof-line which we don't see in the enhanced teaser image. Additionally, CR-V comes with roof rails while in the case of Civic hatchback if you see below image, there are bulging edges on either side which continue on the hatch spoiler. This means that the teaser image is neither for hatchback nor for CR-V. Please also keep in mind if even Honda Atlas launch any of these vehicles it would only be a completely built Unit / CBU import.
In my previous article, I mentioned about Honda Mobilio MPV and Brio. Both these vehicles don't get a Shark-fin antenna overseas. Also, both vehicles rear glass sloped at a much larger angle and no way seems to be closer to the teaser image.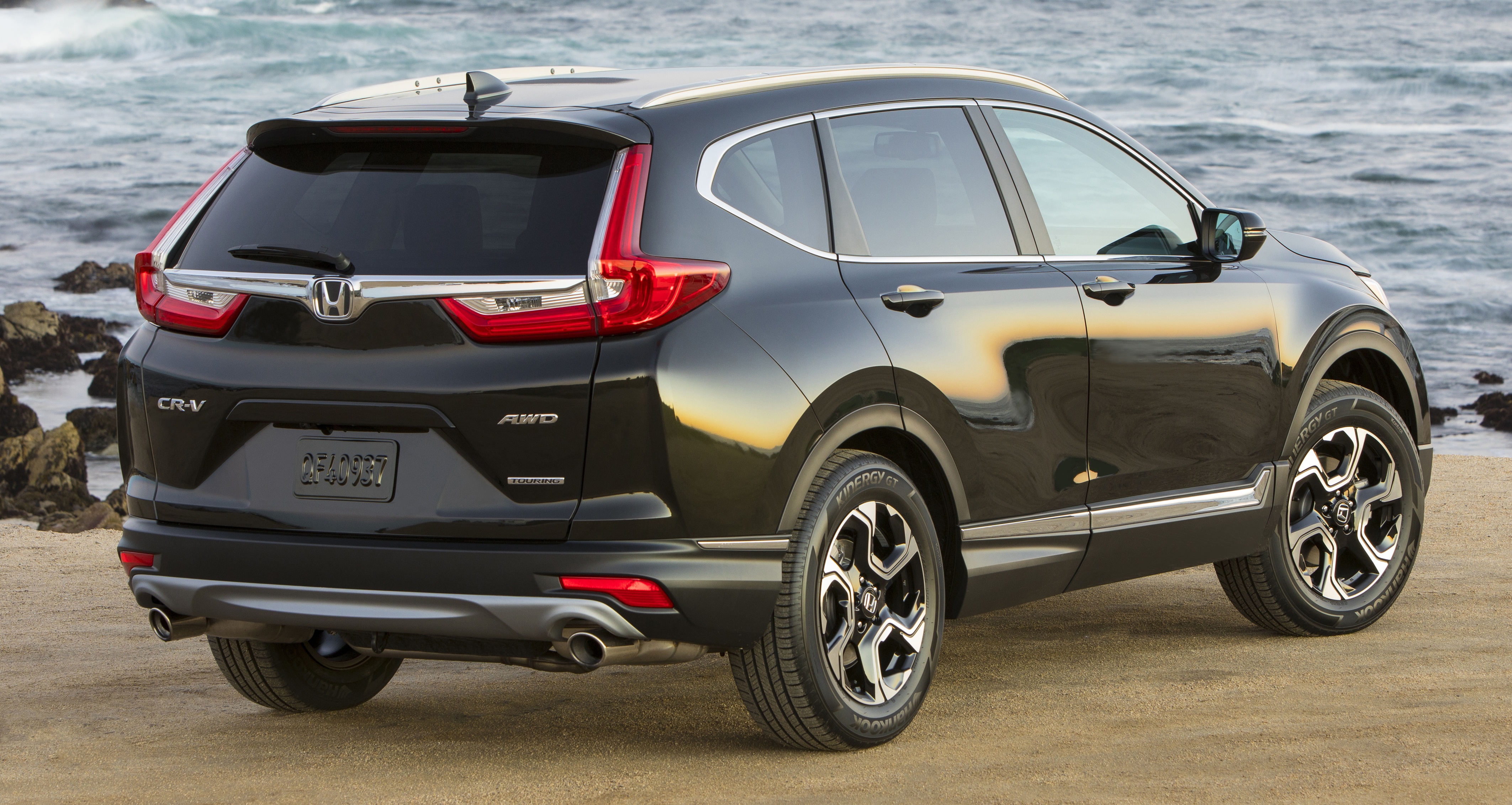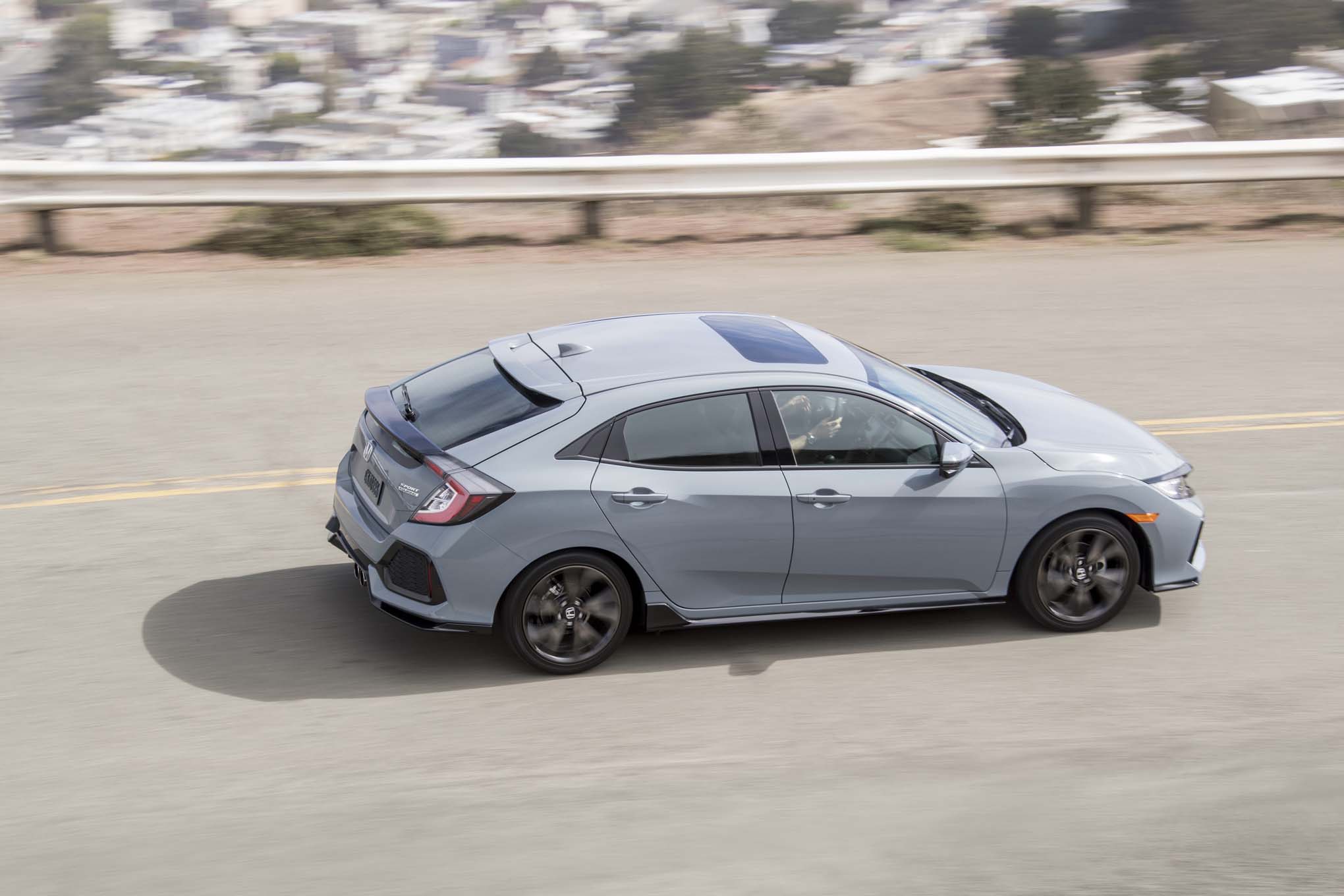 Now let's go over the most talked about one. The Honda City. Honda Atlas launched a so called Honda City face-lift recently in the Pakistani market which is the 5th generation. Although it was extensively and widely criticized.    A new generation of Honda City is long over due for Pakistani market and there is a lot of excitement among Honda enthusiast and they have been waiting to see a newer generation since long.  The internationally 6th generation got a face-lift few months ago as well.
Looking at the teaser image and comparing it with the images given below, the pre face-lift 6th generation City [silver car ] and 2017 face-lifted City [ White car ], we found some similarities. The roof lines, sloping glass and the plastic trim piece on the edges clearly match. But we are still left with a big question mark. The profile and shape of shark-fin antenna as in teaser does not exactly match with the posted pictures as below.
This makes us think another possibility. Maybe Honda Atlas is doing another face-lift to the recently face-lifted Honda City with the addition of this shark-fin antenna. Do you think Atlas might be doing an another update to the City with the addition of front driver and passenger air bags and option for the newer interior color scheme and some exterior updates?
The 5th generation City was not equipped with shark-fin antenna in any markets where it was introduced. Do you think this teased image might be of another face-lift with the addition of this shark-fin? I am not sure about this possibility but there is a very sound noise about this happening.  Although the antenna fixture doesn't match exactly with the teaser even then, is there a possibility that Honda Atlas will bless us with the new 6th generation City?
If we open history books, Honda Atlas did a face-lift to 9th generation Civic just a few months before the launch of the 10th generation Civic. We saw a face-lift to City so there is a possibility of the 6th generation.  We have to wait till a new teaser image or for the full release of details by Atlas.
The last and most talked about guess among Honda enthusiast is the arrival of Honda Civic Turbo. The booking for 1.5T model currently is on hold  due to ongoing engine knocking issues, although Honda Atlas never made any official statement about this matter dealerships across the country were not taking turbo Civic orders and also suggesting switching existing orders towards 1.8L variant.  According to recent reports, Honda Atlas is working on the fix, most probably a software patch and it was rumored that Atlas will start booking of Civic again very soon.
As I mentioned in the previous article as well, do you think to win hearts of the customers is it possible Honda Atlas relaunch Civic Turbo which is their flagship model as well with some more features and goodies? Like the LED headlights or may be the most wanted  "Driver Information Interface " also known as Blue cluster among Honda enthusiasts. Is the Shark-fin antenna part of the updated and improved Civic?   The shark-fin antenna is available on Indonesian Civic as well as Australian "RS" trim.
Now comparing the teaser image with the Civic with shark-fin antenna installed, we see some similarities as well as differences.  The roof slope and glass profile are identical. But again as in the case of City discussed above,  the profile/ shape of this fixture does not match with the one installed on the international models.  Also if you see the below images you will see that the roof dips down near edges as marked with yellow arrows. We don't see this in the teaser image.
If we believe that the teaser image is not showing all the details and assume that there is a dip; but as mentioned earlier the antenna does not match. Now there are two possibilities. Either it is not a Civic in the teaser or It maybe a Civic but with a different shaped shark-fin antenna for Pakistani market Civic. Pakistan market now follows Indonesian Honda model and even Indonesian version Civic does not match with teaser.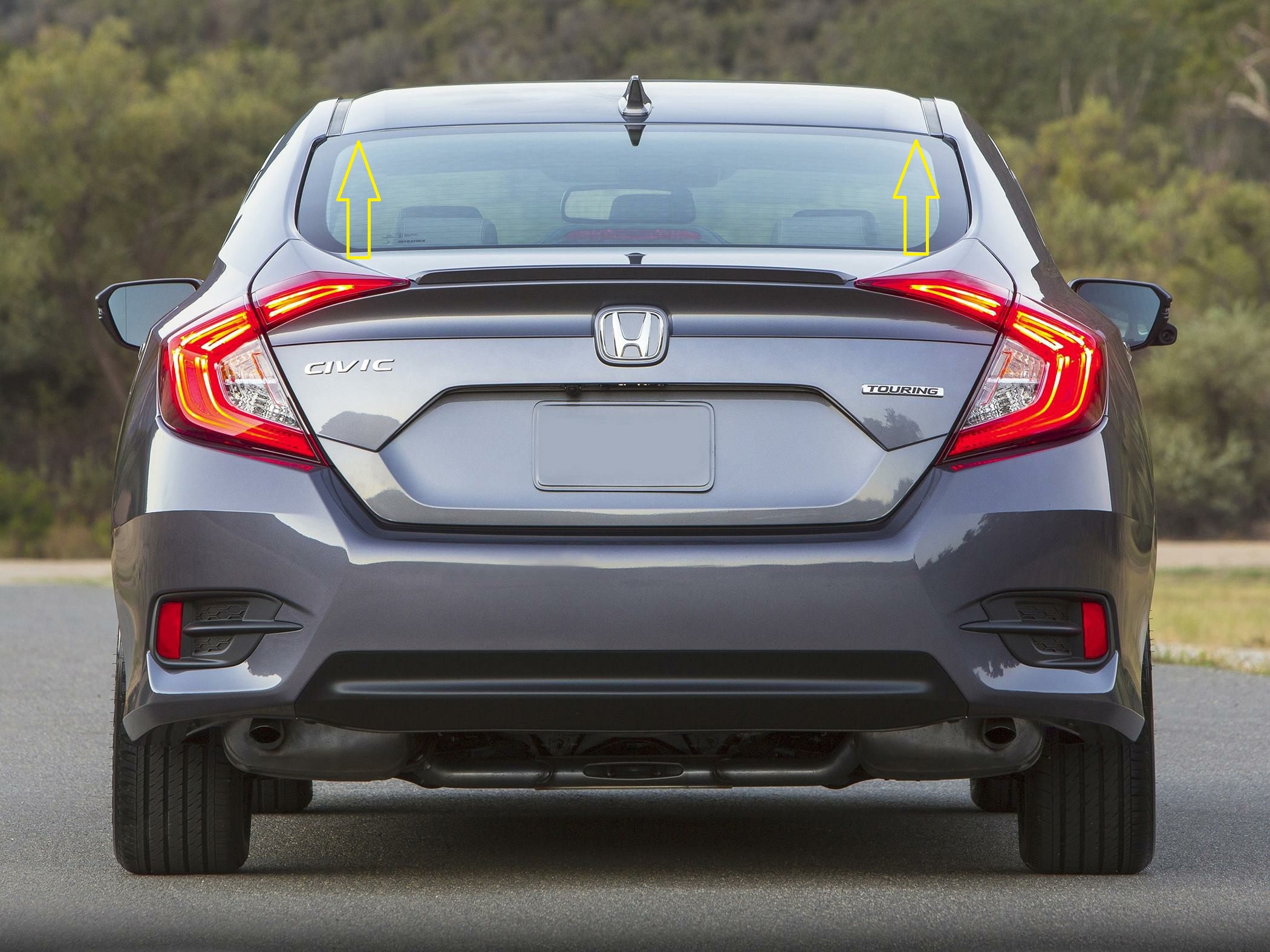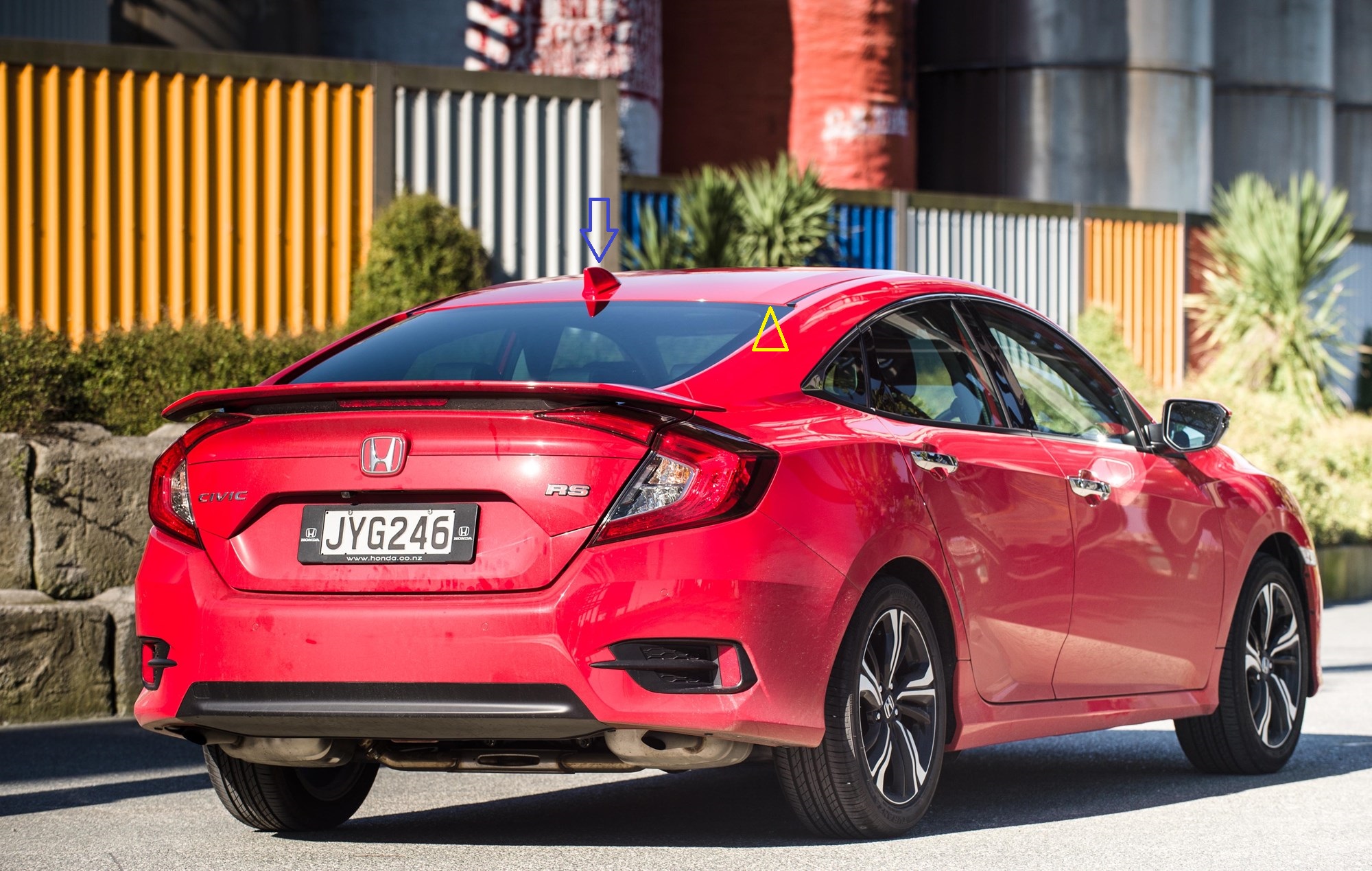 So readers what are your thoughts about this new teaser? Do you think the teaser is not reflecting any real car and is just a generic image shared by Atlas?  I am sure it is confusing as well as exciting. Honda Atlas has really put a great suspense. The teaser image with tagline "Accelerating Perfection" seems also hiding some message. Does this mean Perfecting an existing model?  Does this hint the Turbo Civic ? or Face-lift to face-lifted City? Or altogether the most awaited 6th generation Honda City?
I think as the 70th anniversary of  Pakistan independence is near, Honda might be lifting the curtains very soon and might choose 14th August for the release of this new or updated model for Pakistani market.
One thing is clear and understood and everyone agrees that customer do want an "Accelerated Perfection " as far as quick deliveries of their booked vehicles, and perfection towards improved quality built vehicles.
Join Discussion on this matter at Pakwheels.com