Recently launched Zotye is yet another Chinese car hoping to make its mark in Pakistan's automotive market. Zoyte Z100 is a small 5-door hatchback vehicle with conventional front wheel drive platform. Although there are numbers of small hatchbacks easily available in our market, the following blog is dedicated to comparing  Zoyte Z100 with its nearest and closest rival, the FAW V2. Both are front wheel drive 5-door hatchbacks. But most importantly, both are from China. And Chinese automakers are eyeing Pakistan as their next big easy to access car market.
Also Read: A Few Notable Pros & Cons Of FAW V2
Although the Z100 is available in an many as 3 variants in some international markets, it is not yet confirmed if Habib Rafiq (PVT.) Limited (HRL) will bring all three variants in the local market. On the other hand, the FAW V2 is available in only 1 variant at least for now. Although there are rumors that Al-HAJ FAW is interested in launching an automatic transmission version of the V2, there is no confirmed news regarding the new variant. As many of you might know, the FAW V2 is based on the very popular first generation Toyota Vitz. Its 1300cc engine is also an iteration of the Toyota's own 1300cc motor that was used in that Vitz. The Z100 is, on the other hand, based on the seventh generation Suzuki Alto. So there is no doubt that both cars have very solid foundations and both of these Chinese cars are based on the mechanical philosophy of the JDM vehicles that have proven themselves around the world.
The FAW V2 is priced at Rs. 10,69,000/ whereas the z100 is priced at Rs. 1,172,000/. People have already voiced their concerns regarding the price of the Zotye Z100. It is a widespread belief that a new carmaker who is trying to make its place in a new market should go for a better price strategy and be willing to sell its products at competitive prices. FAW V2 is being sold with a bigger engine at Rs.100,000 less than what Zotye is asking for their hatchback. So it will be interesting to see if the car is able to make its name amongst the already competitive hatchback market.
Also Check Out: 2 Door Cars for Sale in Pakistan
Following is a snapshot of specs of both vehicles.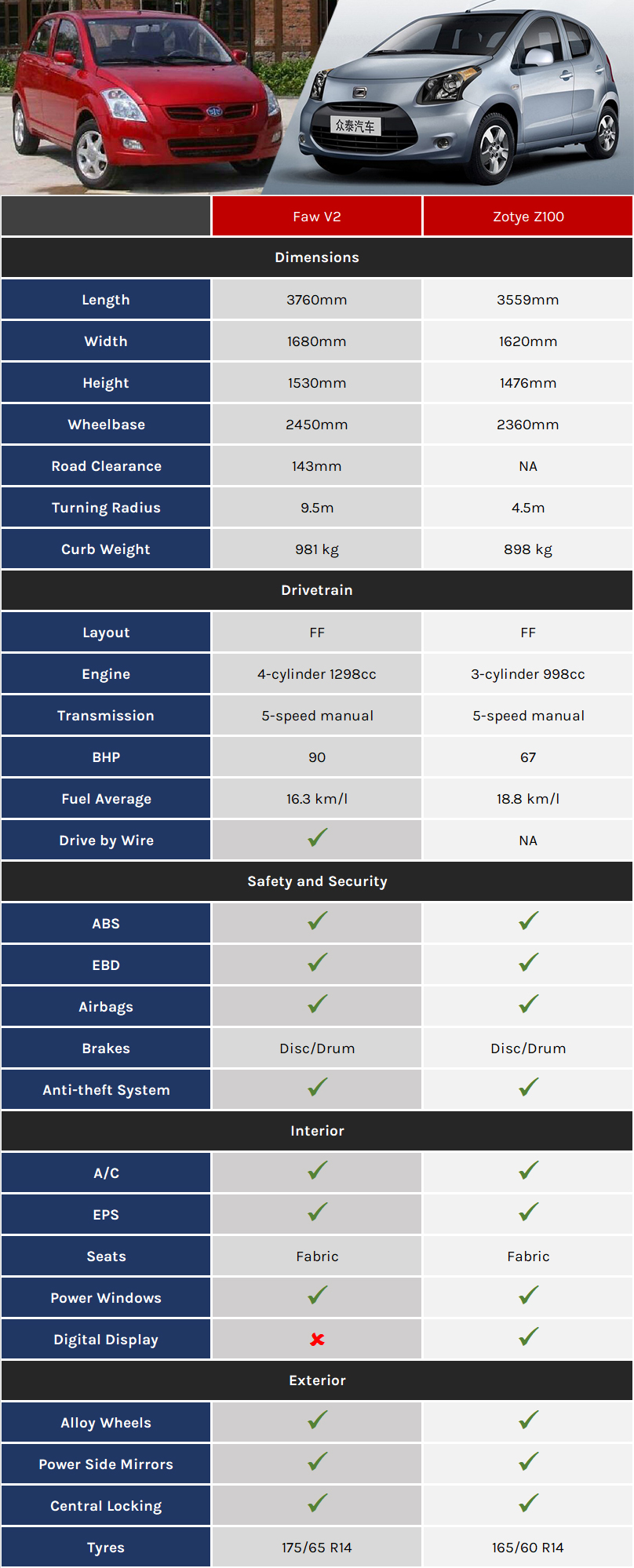 Let us know what you think about the new Chinese hatchback in the comments below. Also, would you be interested in more Chinese vehicles that are usually cheaper instead of renowned vehicles which end up costing consumers more.