Pakistan automobile market has changed a lot since the start of 2000 and is again on a rollercoaster ride towards improvement and enlargement. Previously Japanese cars were a second-best, and now we also have some spice added-up with Chinese mark. Though, everything is imported-exported from China and no surprises there. However, with vehicles, we have just started experimenting. Let's see what we have here from China!
An Intro To FAW
FAW is a Chinese group and is being run under Al-Haj FAW label in Pakistan. FAW is one of the Chinese giants which have quite recently started to capture Pakistani market. FAW Pakistan launched their V2 Hatchback in Pakistan around 2013 and it's the first generation. The present-day car FAW V2 is estimated at PKR 1,069,000, which in our opinion is a very handsome amount, of course, if you get the best value too! You are eligible for a zero meter car with a 3-year warranty and 3S free services along the deal. An awesome way to catch customers FAW!!!
Competitors Of FAW V2
There is always a competition in every field and you can't survive if you are not up to the mark. Same is the case in the automobile world. The V2 is comprehensively similar to the first generation of the Toyota Vitz. Ironically, the car uses the same engine and body proportions as of the Vitz. Let's put it this way, there is no huge difference, other than a slight-petite alteration of the body. Suzuki Swift and Suzuki Cultus are FAW's dominant, and more market-oriented competitors as of now in Pakistan. Though, FAW needs to also outperform others, like:
Suzuki Wagon R
Daihatsu Charade
Toyota Vitz
Toyota Yaris
Toyota Passo
If it needs to stand with its head up, FAW has to ensure to have a strong goodwill like Suzuki and Toyota, so people can trust it in the similar manner. Another plus will be adding features, which Suzuki & Toyota may have over-looked in the same price tag.
FAW V2 V/S Suzuki
As we already outlined above, the comparison will not be easy for a lot of people when it comes to FAWs competition. For example, in Suzuki Cultus, you get an engine with 63hp at 500RPM with fuel type as petrol. The fuel system is EF, with a total of 4 cylinders. The torque will go around 103NM at 4800RPM. Whereas, with Suzuki Swift, you get 1328CC engine with 4 cylinders and EFI included on top. The power output for swift is 92 bhp at 5800 RPM in comparison with FAW being 91hp at 6000 RPM. In terms of transmission comparison of Swift, you get automatic at 4-speed and manual at 5-speed. FAW only gives you a 5-speed manual transmission at the go. The Suzuki Wagon R will not stand-out in front of other variants, but it still gives you 5-speed manual transmission with 1.0 Liter DOHC 12 valve Inline-3 when it comes to the engine. Didn't we say, it won't be an easy evaluation?
FAW V2 V/S Toyota
FAW has some major battle to do with Toyota Vitz, Toyota Yaris & Toyota Passo. The engine, transmission, stability – all will be way different than FAW. IMC has made extensive ventures in improving its individual capacity, and FAW will need years to go to that spot. It has also looked into gathering customer needs and wants for new services and products. At the moment, Corolla is the prime automotive brand selling in Pakistan and it also has the merit of standing the number 1 in Toyota's Asian market. Whereas, FAW has just started the journey!
Contest Is High – Toyota V/S FAW
Toyota offers you manual and automatic transmission varying from 4-speed to 5-speed with up to 1800CC engine. Though the opponents of V2 vary between 1000CC to 1500CC but still, the comparison is tough. However, Toyota has a strong market goodwill and customers adore the variances it offers in front of all its competitors. For instance, you get an all-in-one sports EPS in Yaris, and its specifications are highly diverse with lots and lots of specs. Toyota includes technology with features when it veils a new car, whereas FAW is still average in the velocity. Compared to FAW, the public fancies Toyota variants more. The interior, make and color all are highly distinctive, and market opinion stances that FAW doesn't stand much of a chance. But again, FAW out rules at price at the start – and people who want to be in the middle of all, will stand with it.
Pros of FAW V2
Even though it's a Chinese brand, but the car still provides an excellent value for money and has quickly recognized itself as the major opponent of Suzuki. Particularly, with the choice between FAW V2 and Suzuki Swift, it has become very difficult for the customers to choose. It's also christened as the most economical hatchback of Pakistan, let's cruise to see if that statement is in reality owned by the manufacturers.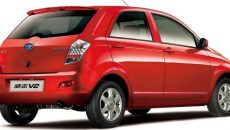 Exterior In Detail
You get a lot of choices with FAW V2, not only in \colors, engine strength, and seating but also a few value-added features. The FAW V2 offers you:
Power door locks
2 Airbags
ABS brake arrangement
Keyless entry
Defoggers
LED beams
FAW V2 also gives you more space for your baggage. Smooth transmission and not so highly expensive spare parts are also another advantage. You also get an all-in-one head and rear lamp in the exterior bliss. The other most looked-for feature is the aluminum alloy rims, which FAW presents to its customers in the same price.
FAW V2 Engine
A powerful drive with steering control on road is packed with a 1300CC engine. Inserting immobilizer for security also gets FAW more supporters though. Swift is out of the show because V2 offers you a vacillating engine with electronic control. You get a 1.3 Liter DOHC 16-valve engine with emission standard EURO 4. The engine also comes with a 5-speed manual transmission, VTC- I, and 4 cylinders in line. Nevertheless, if you value upkeep as a greater factor than certainly Swift is a winner, as it comes with a throttle by wire. You might undermine V2's performance, but again it will surprise you. As its performance turn-out is great. The pickup speed is decent but due to the weight being just 981 KG people start wondering. We get it that it is quite less, but you don't start flying the car! The road grip stays safe and secure with this weight too.
Comfort Seating Arrangement
This is a feature for which we can easily vote for FAW V2, as the spacing and seating arrangement is very noticeable comfy. A roomy interior with fabric seats give your body extra coziness. Further, the leg spacing is also relief-on-par and you can easily get 3 people seated in the back without a second thought.
Cons of FAW V2
In our estimation, the major setback you might face is its resale value. As the price may not be up-to what other brands can offer. Though this can't be a decision changer for many it still counts a lot in the Pakistan market. The other things that may count as a disappointment are notated below and we really want FAW to get them looked into.
Substandard Interior Quality
The additional concern many may raise is the not so high-call interior, which does look like a bit of a deal breaker. If the brand has added other countless features to attract, then the interior quality was greatly missed. The plastic-feel is not so smooth to touch. You will also notice that the fitting is also not so fine, which again intensify the plastic-feel. Honking is also on the need for an extra-added push. For all music lovers a USB and MP3 player is all-set, with a pair of speakers forward-facing, and yes the sound is great!
Manual Transmission
A lot of imported cars come in the automatic transmission-alignment by default in the Pakistani market, but the 1300 model of FAW V2 is simply manual. Though the majority of the public likes manual drive and is quite okay with it, we think if the automatic version is also available in the same price-slot, then it may turn tables in favor of FAW. Another disappointment is the fuel consumption, which sadly is not too inclined on the economy side. Though we saw a lot of bragging towards economy fuel consumption. The brakes come with EBD, but still nothing near to Vitz, they are not too user-friendly and make you apply more pressure. We also missed not having is the traction control, cruise control, satellite navigation and sunroof.
Final Verdict
Though this may not sound so cheesy, still, if we observe our surroundings, we do see an increase in the popularity of the car being used and enjoyed by the community. If this does not count as being an openly welcome to PAK-CHINA friendship to the brand, then nothing else we say may count here. Just with a few more modifications, we are sure the brand will see a whopping change in the sales outcome and have a more stable growth in the market too.