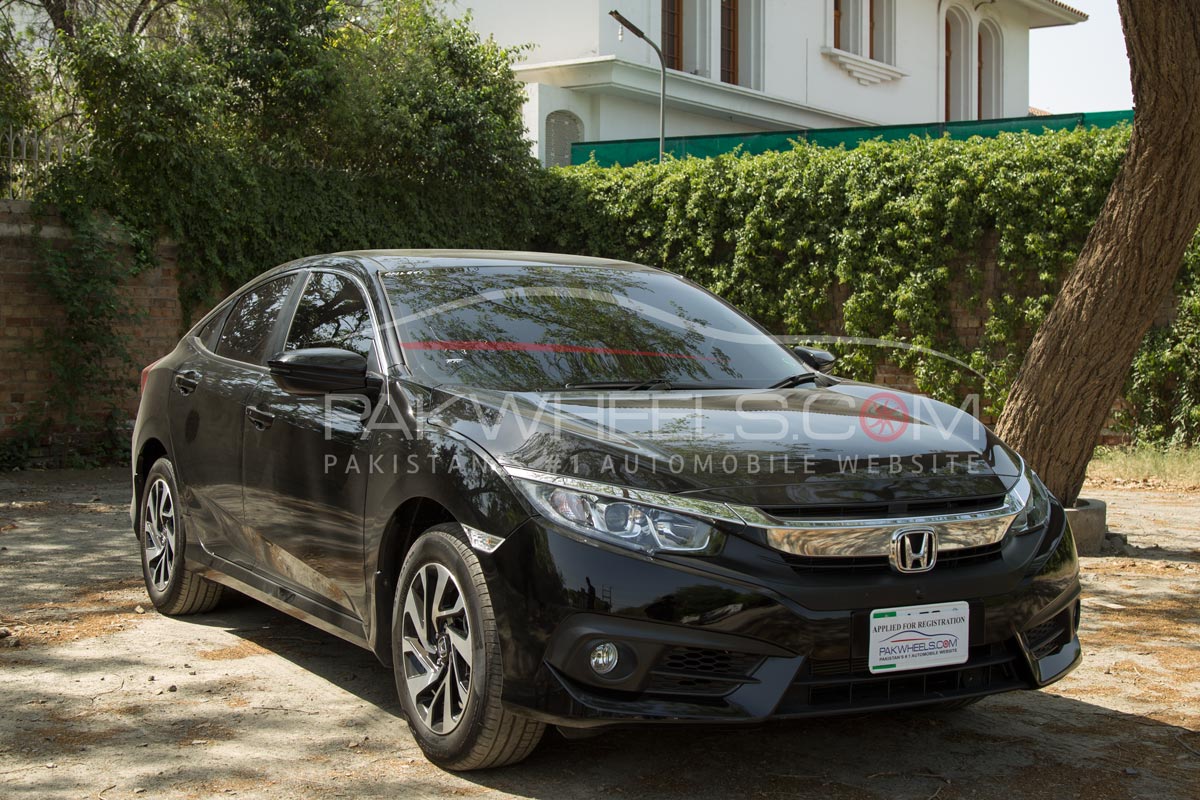 Hello, PakWheelers! Today' test drive and review is the second part of review series on the 10th Generation Honda Civic. We started this series with a review on the 1.5 Turbo variant of this car, but this review is all dedicated to the 10th Generation Honda Civic 1.8 i-VTEC Oriel.
Also Check out: Honda Civic 2018
Since all three variants of Honda Civic have the same physical proportions, chassis, and body; we will be highlighting the differences among Honda Civic Turbo and 1.8 i-VTEC Oriel.
Differences:
As mentioned earlier all the variants of Honda Civic are remarkably similar to each other but careful inspection will highlight some differences in exterior as well as the interior. Thus, following list falls in line with our aim of facilitating customers to differentiate Honda Civic I-VTEC Oriel from Civic Turbo.
The chrome front grill in Civic Oriel as opposed to matte black finish in Civic Turbo.
The presence of single exhaust pipe as opposed to dual exhausts in Civic Turbo.
Body-colored door handles as opposed to chrome coated door handles.
Step inside the cabin and the absence of paddle shifters and rear infotainment screen will surely be quite noticeable.
The Honda Civic i-VTEC Oriel also features an improved head unit as opposed to the usual presence of software glitches found in the Turbo's head unit.
It's been more than nine months since this car was launched and looking back at the earlier units, PKDM Honda Civic has come a long way since then. The company has improved the build quality, as obvious by the properly aligned panels and finishing touches. However, cabin noise when pressing a horn still leaves much to be desired.
Performance: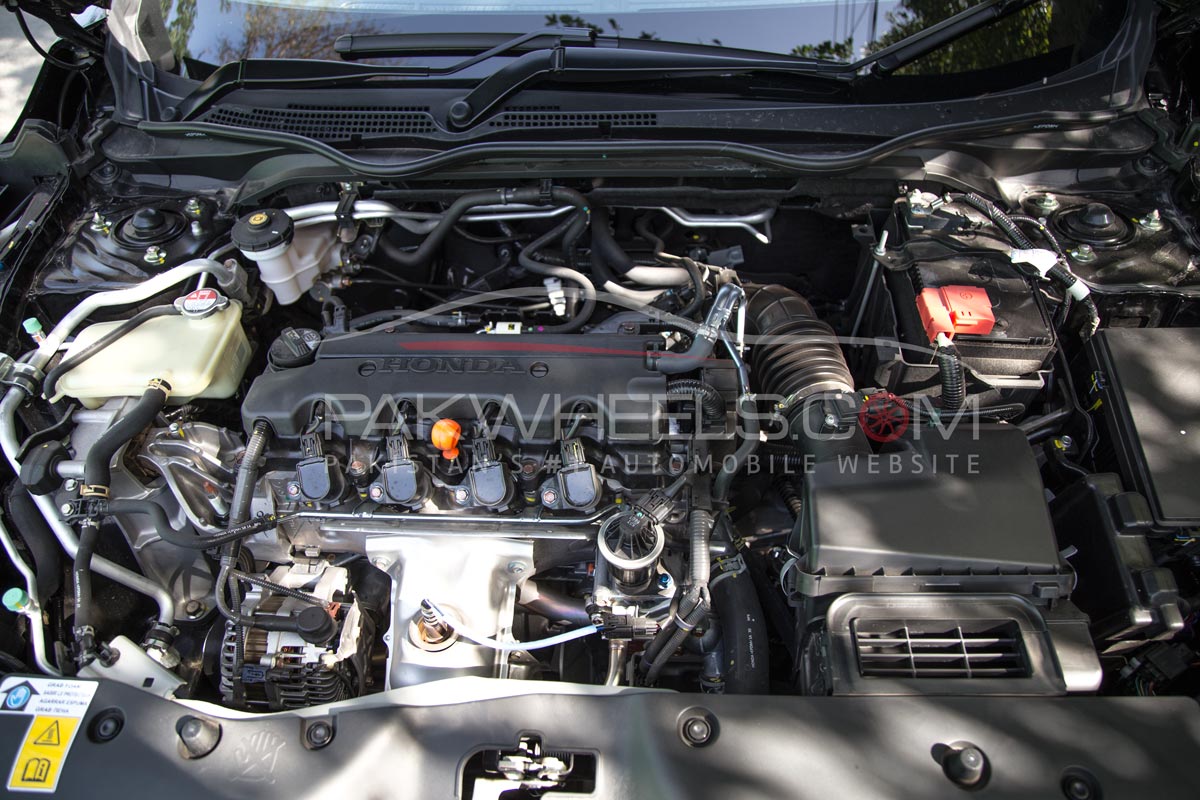 Honda Atlas has equipped this car with a 1.8L engine mated to a CVT gearbox. The engine in this (1.8 i-VTEC Oriel) is capable of producing 138bhp @ 6500RPM and 169Nm @ 4300RPM. On the surface, the difference might not look impressive, but add weight and physical footprint increase in the picture and suddenly every ounce of power will end up playing a big part throttle response. The difference is even bigger when 10th Generation Civic 1.8 Oriel is compared to 10th Gen Civic Turbo, which is capable of delivering 170bhp @ 5500RPM and 220Nm of torque @ 1700-5500RPM.
Nonetheless, if you rate performance higher as compared with any other feature than Civic Turbo is a better car for you. However, if you lean towards buying a 1.8 Oriel considering the issues which are coming in the Turbo variant, then there are several solutions available in the market such as the installation of an after-market throttle kit to get the best from your car. Additionally, the 1.8 Oriel handles, drives and operates similarly to the Turbo variant. The 0-100KM/Hr test was pretty easy to negotiate in this car and we conducted this test with and without an after-market throttle control.
11.46s (0-100KM/Hr without throttle control)
11.20s (0-100KM/Hr with throttle control)
Installing a throttle control might not present stark result but it is a useful device to increase the response of your car at any time in order to maximize the naturally aspirated 1.8L engine. It is prudent to mention that in the past few months an overwhelming Civic Turbo owners have expressed their concerns & complaints about the severe knocking issues and less than satisfactory solutions on PakWheels Forums.
Moving on towards the ground clearance, Civic 1.8 Oriel can easily negotiate any standardized speed hump with its 153mm ground clearance and a fuel mileage of 10-11 KM/L (in city) with a soft foot and 8-9 KM/L (in city) with performance-oriented driving style.
Aside from the comparisons in performance and aesthetics of Honda Civic variants, the cost of ownership also needs to be mentioned. The Civic 1.8 Oriel will end up costing you more at the time of its purchase (courtesy of its increased withholding tax) and will also require a larger sum of token tax to be paid (due to a higher engine capacity as compared to Civic 1.5 Turbo.)
Luggage and Seating Capacity Tests:
The car offers ample amount of legroom and headroom for the driver, front and (two) rear passengers. However, due to the non-flat rear floor, the restricted seating posture, as well as legroom, can pose some problems for the passenger sitting in the middle of the rear seat.
The Honda Civic 1.8 Oriel has 15.1 cubic feet (427.5L) of trunk space, which is more than most compact sedans have. Two full and one medium size luggage bags can be easily placed inside it.
Safety:
The car in question comes with two airbags (driver + passenger), Auto Brake Hold, Vehicle Stability Assist, Hill Start Assist, Anti-Lock Braking System, Emergency Stop Signal and an optional reverse camera. Additionally, the car also features immobilizer and a high mount stop light.
Conclusion:
It is safe to say that this car (1.8 Oriel) has managed to make itself a successful product for the company in Pakistani automotive market. This success can also be credited to various complaints by the Civic 1.5 Turbo owners, which discouraged many consumers into downgrading towards a Civic Oriel; thus increasing the demand and premium on this car. Many consumers have shared their experience of switching from Turbo to Oriel on PW Forums and are having a relatively good experience. A Civic lover will always be a Civic lover, thus comparing Toyota and Civic is highly subjective, which is why we focused on differentiating Turbo and Oriel variant of Honda Civic. Last but not the least, our pick among both these cars is Honda Civic 1.8 Oriel.