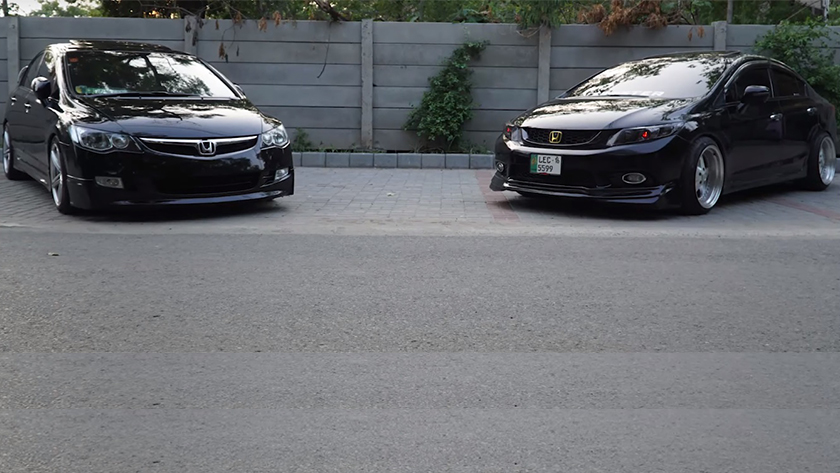 Honda Civic Reborn 2010 and Rebirth 2016 – Owner Review
PakWheels.com has yet again brought a comparison review between two generations of Honda Civic in Pakistan. Both the Reborn and Rebirth models of Honda Civic received widespread popularity in Pakistan. Looking into the locally manufactured premium segment, Honda Civic is a popular choice. It comes with ample features and a comfortable and spacious ride for five people. Their respective owners modify both of the cars reviewed, and they differ from the stock cars. 
Honda Civic Reborn (2006-2012)
The current owner bought the particular car being reviewed in 2015 in PKR 14,00,000. This is a used car purchased by the owner and has a manual transmission. Fuel mileage is 10 km/l in the city and 14 km/l on the highway. Currently, you can purchase a used Reborn in around PKR 9,00,000 to PKR 14,00,000. Honda Civic Reborn came with a single airbag for safety purposes. 
Honda Civic Rebirth (2012-2016)
The owner bought the particular car being reviewed here in 2016 in PKR 26,80,000. This was a new car purchased by the owner, and it is the top-of-the-line VTI-Oriel Prosmatec variant. This particular variant gives approximately 10 km/l in the city and 15 km/l on the highway. Compared to its competition, Honda Civic is considered to be more sporty and comfortable. Honda Civic Rebirth came with dual airbags for safety purposes. 
The maintenance cost of both these cars is more than that of the economy sector cars. For example, an oil change can cost you between PKR 5,000 to 7,000. Spare parts of Reborn are readily available and are cheaper than the spare parts of Rebirth. However, spare parts of rebirth are also easily available in the market. 
One prominent issue in the Reborn is pertaining to its alignment, and it has been a cause of concern for owners. Moreover, after the catalytic convertor chokes, it gives out an odd sound and needs replacement or removal. Rebirth models from 2012 to 2014 had some suspension and catalytic converter issues. Both cars came with 4-wheel disc brakes and Anti-lock Braking System (ABS). Compared to the competition, both of these cars have better braking mechanisms. The ground clearance can be an issue for both these cars if you take them outside of urban areas. 
A digital speedometer also distinguishes both these models from the competition. Rear passenger space is spacious and can comfortably seat up to three passengers in the back. The resale market for both these models is still strong today, and one can get a reasonable price and can sell these variants easily in the market.
Tell us about your thoughts on these two variants of Honda Civic in the comments section below. Which one do you prefer? Stay tuned for more comparison content regarding popular cars in Pakistan.