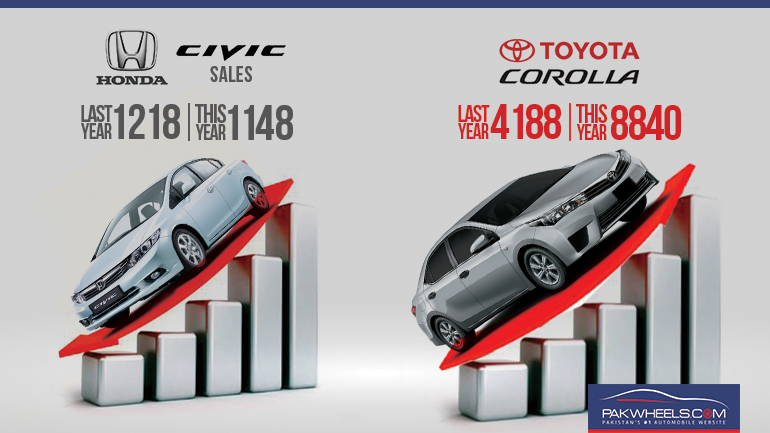 Sales of locally assembled cars have increased to staggering 77%, according to the numbers provided by PAMA (Pakistan Automotive Manufacturers Association), for the months July and August, compared to last fiscal year. This is a great news for Pakistani auto industry, especially for the Toyota Indus Motors and Pak Suzuki within the industry.
Honda unfortunately got the sharp end of the stick as far as Civic is concerned. Honda Civic sales dropped to 1146 units from already abysmal 1218 units last year in the same period of time. Honda City is still fighting its way in the already competitive auto market of Pakistan. Honda Atlas sold 3037 units of City compared to last year's 1921 units. That's 58% increase in sales.
Toyota on the other hand has seen more than the double, jump in sales of its Corolla. Last fiscal year, during the months of July and August, Toyota sold 4188 units. This time around however, during the same months, Toyota sold 8840 units of Corolla. These are some astounding figures. On our visit to Toyota Indus Motors last month, officials there revealed that Toyota assembly plant is firing on all cylinders, 24 hours a days. Three shifts of 8 hours daily to meet the demand of Corolla, and still, the waiting time is 4 months, if you go and book one now.
Pak Suzuki is also enjoying the season of better sales. Suzuki was able to sold 674 units of their Swift, compared to last year's 617 units, in the months of July and August. Although number isn't huge, at least it is not in deficit. Sales of Cultus increased to a bit more than 9% compared to last year, but Wagon R outshone all other Suzuki vehicles, and its sales jumped to 67% (709 units last year, 2064 units this year).
Better auto sales are being attributed towards the overall better economic conditions of Pakistan. Also there is the factor of international decline in the fuel prices as well. In Pakistan, schemes like Punjab taxi schemes are also helping to boost the auto sales. On the other hand, banks are now allowed to finance cars older than 9 nine years. All this is helping new and existing auto consumers to take interest in the industry and open their wallets. And besides, the charm of a new Toyota Corolla is quite effective.
Story: Dawn