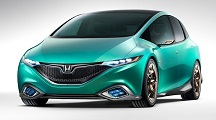 Honda Concept S revealed in Beijing
It is during these autoshows that automakers reveal their ambitious plans for the future of motoring. While the Geneva and NY Auto Show marks as the most prestigious events to unveil a car however, China is fast becoming a cash cow for most of the automakers and therefore, a great platform for automakers to show off their new cars.
Honda also unveiled its Concept S which is destined for Chinese markets and other developing markets and for the developed ones, a slightly larger version of this concept shall be revealed.
Concept S is actually the former Odyssey, only slightly smaller. Although Honda says that the S means 'stylish, smart and surprise', but this is a concept car and the production versions are very tamed down to meet safety board's requirement.
Honda is probably going to use some hybrid powertrain for their vehicle while the front of the car looks quite aggressive and sharp, with Honda using only LEDs for illumination. The side profile is quite sleek and the car is probably quite aerodynamic, while the rear lights merge both with the rear window and a chrome strip running along the bottom of the boot-lid.