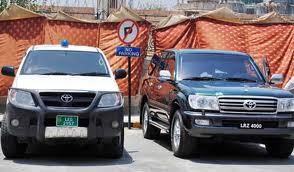 CM Punjab rips out no parking signs after being caught in violation of them
We came across this news reel few moments ago and we can help but delve ourselves to know what would've happened with a normal citizen? Jail, fine, endless hassle in confrontation of our corrupt law enforcement agencies and what not but for the ruling elite, they simply remove that law if they're reported to be in violation of it.
CM Punjab, Mr. Shahbaz Sharif rips out no parking sign boards after being reported in the media for parking his vehicles in the no parking area of the Punjab Assembly. His remedy for the PR crisis? Order to rip those signs boards out and convert the area into a parking zone so they could tell the world that they parked in the right area.
Yup, we've been forcefully blinded by the people who upheld our law and rights.