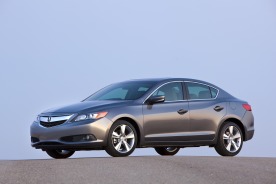 Is the 2013 Acura ILX Honda's Camry?
The moment I saw the Acura ILX's front, Toyota Camry instantly popped into my mind even though, Acura is Honda's luxury car brand which it is working towards making it stand on par with Toyota's Lexus and Nissan's Infiniti.
But when Acura's models will resemble with Toyota's beige cars than it is very hard to fathom that how Honda will be successful in attaining that goal.
The 2012 Acura ILX looks like the Camry, is reminscient of the Integra since it's lightweight, efficient and packs enough punch and than it is based on current generation Civic's platform architecture, but have a 105.1 inches stretched wheelsbase although, many auto journalists' have mentioned Integra and ILX in the same sentence but everyone agrees that this isn't the true successor to Integra in anyways, as this is a tamed luxury car aimed for the folk with little budget and great preference for luxury, until it turned out looking like a Camry.