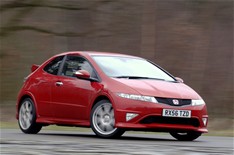 Honda confirms new Civic Type-R
Auto companies are diverting their resources towards building ECO cars which are safer to the environment however, at the unveiling of the new Honda Civic at the Frankfurt Auto Show, New Honda Civic chief engineer Mitsuru Kariya has confirmed to Autocar a faster 'Type R style' car is under development.
Honda had initially rejected the claims that a Civic Type-R would arrive but the enthusiast and people looking for budget sporty cars have pushed Honda to cater them as well.
Following President Takanobu Ito's push to renew Honda's sporting credentials –  a more hardcore performance oriented Civic will now be sold. However, it may not carry the Type R name.
"It [the performance version] is already under discussion," said Kariya. "We know Type R was a big success, especially in the UK market, and we are now looking for a car to be developed in that direction. Whether it will be called Type R is not certain though."
Honda has never brought the Civic Type-R to Pakistan, however, to compete with Corolla Altis, Honda might bring the more hardcore Civic to Pakistan.