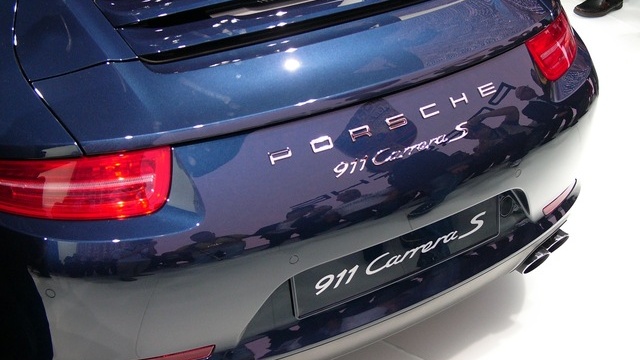 The new Porsche 911 is here, and a new Porsche will soon compete with Ferrari
Yes it has been finally revealed by Porsche at the Frankfurt Auto Show marking the end of 997 911's seven years of glory. The new 991 911 is very much like the 911's of the past 48 years but, Porsche now plans to take on Ferrari in the ultra luxury brand segment of automotive industry.
Although you won't be able to distinguish between the 991 and the 997 apart from the tail-lights, but the new car is 100 pounds lighter, has a top speed of 180 mph, and gets a 350 hp boxer six.
While the next big news arrived from Porsche's CEO, Mr Muller who said there would be a new Porsche which would compete with Ferraris, not the 911, it however is an icon of German engineering, no doubt, and to Porsche fans epitomizes speed and quality, but it still lacks the exclusivity and head-turning allure of some of Ferrari's top models.
The Porsche 918 Spyder, a limited-edition hybrid supercar expecrted to be launched in 2013 and boasting a 3.4-litre, 500-horsepower V8 engine, will retail at €750,000. But the price range between the 911 and 918 is dominated by Ferrari, with cars such as the 599 and FF.
"It has always irritated me that the 911 stops somewhere around €250,000 and doesn't start again until the 918 for €750,000," Mr Müller told the German newspaper Süddeutsche Zeitung in August. "In between sits Ferrari, relatively comfortably and without competition. We've got to get in there."
Mr Müller said Porsche might develop a larger sports car than the 911, one similar to the Porsche 959, which was built in the late 1980s and was the world's fastest street-legal series production car at the time of its launch, with a top speed in excess of 320kph.
"I could imagine such a model in a price range of €250,000 to €400,000," said Mr Müller.
But that could only work if Porsche boss decides to make it a bit different looking than the rest of the Porsche's otherwise, the current Porsche range looks so similar that ordinary man can't tell apart whether what model he just saw.