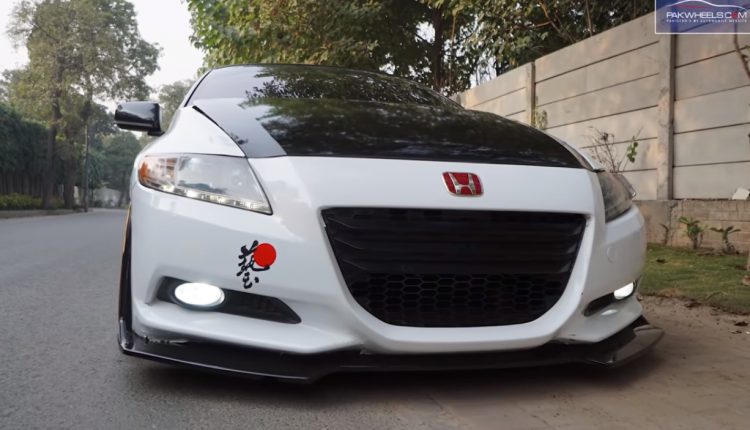 Honda CR-Z Owner's Review: Price, Specs & Features
This is the 2010 model of Honda CR-Z, which the owner bought in 2018. He has been driving this car for about a year now. The owner was considering cars in the range of PKR 14 to 15 lacs before buying this car. Other cars in his consideration were Honda Civic Reborn and Toyota Corolla. The owner also has modified his car and has taken inspiration from Japanese modified cars. He bought this car in PKR 14,50,000. Honda Atlas launched CR-Z back in 2013, both in manual and automatic variants. It did not come with an LCD infotainment system, cruise control, or a multimedia steering. This CR-Z is the Japan Car of the Year model. Other models are Alpha Black, Master Label, and Beta. The owner has spent around PKR 3 to 3.5 lacs on modifying this car. In June 2016, Honda decided to discontinue the CR-Z model from its lineup. 
Honda CR-Z Exterior 
The rear window has a viper to keep it clean from dirt and dust. You can also get an optional panoramic sunroof. The exterior of this car has been wrapped, and stock rims have also been changed. The owner has also installed coil overs in this car that has made the car lower to the ground. The carbon fiber body kit is also fitted to this car. The owner got this body kit tuned to his taste. Ground clearance of this car can be an issue since it is lower to the ground compared to the stock version. If you are looking into a sportier-looking CR-Z, then you can consider the Mugen model. It is from Honda's motorsport division, Mugen. With the Mugen model, you get glossy black front grille, sports suspension, triangular sports exhaust, 7-spoke 17-inch wheels, carbon fiber shift knob, and daytime running lights (DRLs). The exterior design makes this sports car a hatchback, especially the slanted rear window. This also improves the aerodynamics of the car and reduces drag. 
Honda CR-Z Interior 
The Honda CR-Z comes with a touchscreen infotainment system and steering controls. Power steering, power windows, and power mirrors are standard equipment in this car. The power mirrors are auto-retractable as well. As standard, the CR-Z comes with fabric seats; however, the owner has installed leather seats. There is a carbon fiber trim inside the car and leather side panels. The CR-Z also comes with a premium Honda audio system. Other interior features include push-start, electronic parking brake, and an armrest for the driver and the front passenger. The driver's seat is height-adjustable, which makes driving a bit easier. Steering wheel rake and reach adjustment are also provided in this car. 
See the video review of Honda CR-Z below:
Performance 
This car comes with a 1500cc hybrid engine that produces 120 bhp in stock form. This CR-Z was dyno tuned by the owner, and therefore, it produces 12 bhp above the standard 120 bhp. The fuel average of this car is 11 to 12 km/l; however, due to modifications, its fuel average has been decreased from 13 to 14 km/l. The top speed of this car is 195 km/h. Paddle shifters make driving a bit more sporty and performance-oriented. There are three driving modes: sports, normal, and eco. This car has a 7-speed automatic transmission. There is an option of S+ that gives a five-seconds boost to the car. The owner changes oil after 7000 to 8000 km, and it costs him PKR from 3500 to 4000, including filter. The headlights costs around PKR 35,000, and the door handles can you around PKR 25,000 as they are old school style. The taillights cost around PKR 15,000. 
Comfort and Handling 
The performance of air conditioning is optimal; however, there is a lot of glass in this car, which makes this car hot in summer. Climate control keeps your desired temperature and makes your driving experience a bit more comfortable, especially in summers. Cruise control is also provided in this car that makes driving on the highway stressfree. Only two people can sit in this car comfortably. The shape of the exterior and low ground clearance makes the CR-Z nimble in handling. 
Safety 
There are a total of six airbags in this car: two at the front, two on the sides, and two at the back. The car also comes with safety features like ABS (anti-lock braking system) that enhances braking. Other safety features include electronic stability control, traction control, brake assist, integrated turn signal mirrors, and 4-wheel disc brakes. ISOFIX child seat anchors are also provided. Parking sensors make it easier and safer to park this car in tight parking spaces in the city. 
Verdict 
Spare parts are not readily available, and they are expensive. Build quality of this car is really good and has good sound insulation. Being a sporty car, it is targeting a niche market and people who are driving enthusiasts. Boot space is also good for carrying the luggage of two people. The resale market for this car is not good, and you will find it difficult to trade this car. 
Stay tuned for more news-related and informative content. Drop your thoughts in the comments section below.
Recommended for you: BAIC D20 Vs. Suzuki Swift: A Brief Comparison!