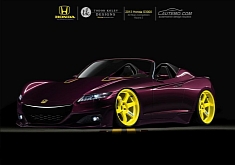 Honda enthusiasts dream up S3000
We all miss the good looking, fun, naturally aspirated, RWD, high revving, affordable sports cars made by Honda called the S2000. I yearn to have one because it could rev to the moon and yet only cost as much as only one wheel of a used Ferrari I think.
As it turns out, there more people like me, who also have the talent to visualize what they dream about. In this case, they imagined a reincarnation of the famous Honda S2000, dubbed the S3000.
Todor Kolev on DeviantArt made this design based on the Honda's current design language so its not entirely an impossible shot of what could possibly be the S3000 should Honda chose to reboot the S2000.
Off all the rumors we ever heard from Honda, a possible new S2000 isn't one of them even though its time. Toyota has introduced GT-86 and other companies are working towards a competitor to the GT-86 however, Honda already had the S2000 so it knows the recipe, all it needs to do is revise the ingredients to today's standards and keep it simple.