Pakistani automotive industry is not much diverse but it is destined to become one in the coming months as many new automotive companies will start their operations in the country. Despite not much diverse local market, people in the country have very diverse opinion regarding the automotive industry and brands, people prefer one brand over the other on value for money and quality. Cults have been formed, which religiously propagate the brand they prefer. PakWheels.com conducted auto survey namely PakWheels Automobile Industry Survey 2017 to give its readers a clear picture of what people think about different brands. In this survey, a total of 19,155 numbers of responses were recorded from all over the country.
Read Also: Honda Civic and Yamaha YBR 125G bag the biggest awards of the year!
PakWheels.com asked the participants (car owners/users) to rate local brands for the following criteria.
        Value for money
        Favourite brand
        Quality
The respondents rated the local brands as follow: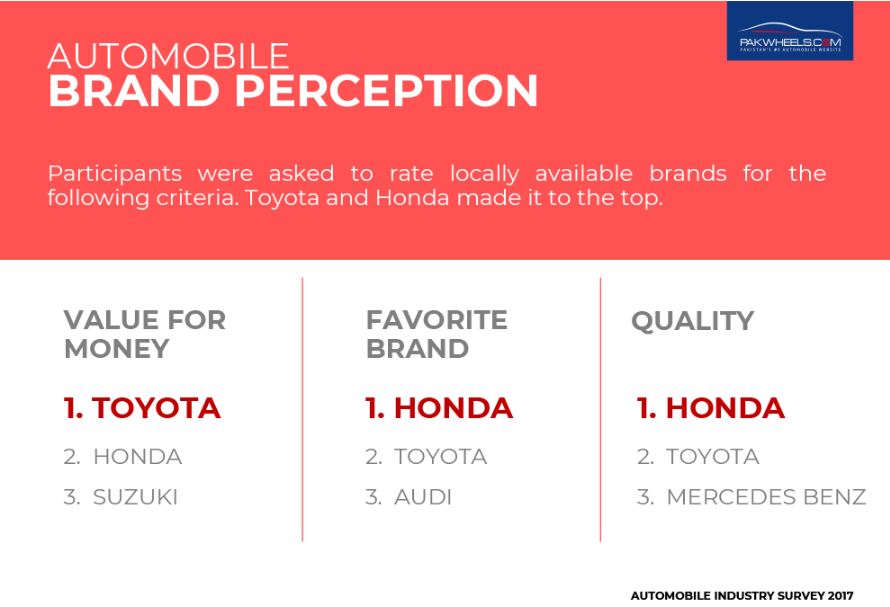 Value for money:
In terms of value for money, Toyota IMC topped the chart, while Honda Atlas secured the second position and Pak Suzuki came third.
It is pertinent to mention here that sedan segment of Toyota is getting good attention from the buyers. Its corolla variants have topped the charts last year, not in Pakistan but world-over. In the fiscal year 2016-17, the company sold 52,676 corolla units. 
Favourite Brand:
People preferred Honda when it comes to their favourite brand. The second was Toyota and Audi secured third place as people's favourite brand.
In the previous PakWheels.com auto survey conducted, the respondents prefered Toyota as their favourite brand.
Quality:   
Performance, safety and quality of vehicles are the things which people think while buying a vehicle. In terms of quality, Honda appeased more people and grabbed the first spot, whereas Toyota and Mercedes Benz secured second and third place, respectively.
It is to be noted here that Honda Civic has been awarded the car of the year award. In the survey, many other brands have won people's choice award as well.
Click here to view the complete report and list of award winners!
So what do you guys think, which brand gives good quality in its products and which brand you prefer? Do comment in the comments section below.