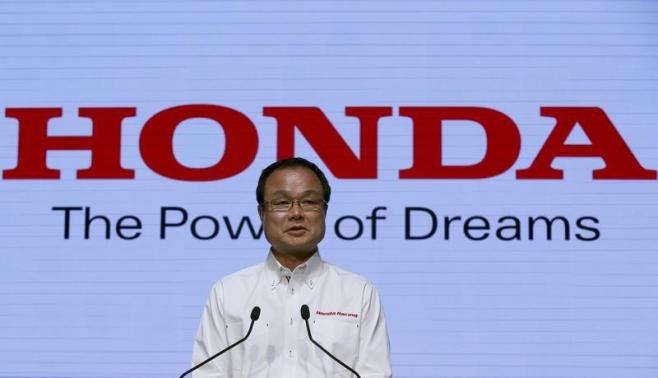 Honda's CEO Resigns Due To The Airbag Crisis
Takanobu Ito has been Honda's CEO since the past six years but due to the lapses in quality in Honda cars, that stint is coming to an end as Ito announced that he would be stepping down in June this year.
He will be replaced by the Takahiro Hachigo, who is an R&D executive and has been currently working on introducing the outgoing CEO's reforms to fix the issues Honda had.
Although the announcement to resignation is a surprise as it was expected that his reforms would be changing the culture at Honda but maybe Ito thought the change was needed more now then later. However, the setbacks caused by the embarrassing Takata airbag recall, along side delays in on many key products.
Before announcing to resign, Ito has also shaken up Honda's top management with a new R&D chief, new head in North America and a new head of automobiles.
The United States is fining Takata 14,000 USD daily for failing to cooperate with the NHTSA and the investigating authorities as about 7.8 million cars built between 2002 through 2008 from 10 different automakers are affected in this scandal however, Honda is the most affected carmaker in this recall with about 5 millions vehicles recalled and Honda's earlier inability to properly deal with this issue.
Takata which is a major parts supplier, built the air bags which were installed in cars 2002 to 2008 and some of those airbags could deploy explosively, injuring or even killing car occupants.
UPDATE (12:13 PM, February 24, 2015): This is the official PR we received from Honda Atlas Cars Pakistan
Honda Motor Co., Ltd. Announces New President & CEO

Tokyo, February 23, 2015 — Honda Motor Co., Ltd. ("Honda Motor") today announced that Takahiro Hachigo, currently the company's Managing Officer, will become Senior Managing Officer effective in April 2015, and will become President, Chief Executive Officer and Representative Director in late June 2015. Takanobu Ito, the current President, Chief Operating Officer and Representative Director, will remain on the board and assume the post of Director and Advisor to Honda Motor. This management succession will occur following the final decision of the Honda Motor Board of Directors after the company's annual shareholders' meeting, scheduled for late June 2015.

Hachigo joined Honda in 1982, and began his career in its automobile research and development operations, principally as an engineer in the area of chassis design. Hachigo was in charge of developing the first-generation of U.S.-built Odyssey minivan, which was launched in 1999 primarily for the U.S. market. Hachigo went on to assume responsibilities as the person-in-charge of developing the second generation CR-V, Honda's highly successful compact sport-utility vehicle for the worldwide markets, in 2001.

From April 2004 to March 2006, Hachigo was stationed in the US as Senior Vice President of Honda R&D Americas, Inc., where he became actively involved in the local development of Honda and Acura automobiles. In April 2006, Hachigo became Operating Officer of Honda R&D Co., Ltd. ("Honda R&D") and subsequently gaining promotion to Managing Officer iii April 2007. After retiring from this position in March 2008, Hachigo became General Manager of Purchasing Division No.2 of Purchasing Operations, Honda Motor, in April and became Operating Officer of Honda Motor in June of the same year. Hachigo then assumed a role in the area of manufacturing as General Manager of Honda's Suzuka Factory in April 2011. He served as Vice President and Director of Honda Motor Europe Ltd. from April 2012 to March 2013 and also as President and Director, Honda R&D Europe (U.K.) Ltd., from September 2012 to March 2013. In 2013, Hachigo's responsibilities shifted to China, becoming Vice President of Honda Motor (China) Investment Co., Ltd. in April, simultaneously becoming Representative of Development, Purchasing and Production (China), Honda Motor, and Vice President of Honda Motor Technology (China) Co., Ltd. In April 2014, Hachigo was promoted to Managing Officer of Honda Motor, a title he currently holds.

Ito joined Honla in 1978 and began his career in the company's automobile research and development operations, primarily as a chassis design engineer. Ito was in charge of developing the all-aluminum uni-body frame structure for the highly acclaimed first-generation NSX sports car that went on sale in 1990. In June 2000, he was appointed a member of the Honda Motor Board of Directors, subsequently assuming responsibilities as President and Director of Honda R&D, General Manager of the Suzuka Factory, and most recently, President, Chief Executive Officer and Representative Director of Honda Motor, a title he has held since June 2009. During the six years of Ito's leadership, Honda was able to actively evolve its global manufacturing structure, notably the establishment of automobile plants in Mexico, Brazil, Thailand, Indonesia, India and China. Also under Ito's leadership, Honda succeeded in solidifying its business foundation by enhancing its product development capabilities一from the hugely popular N-series mini-vehicles, to automobile powertrain development as represented by the Earth Dreams Technology, to the establishment of product development structures in each of Honda's global regional operations. Furthermore, an all-new FCV that Ito has led in an effort to realize a CO2一free automobile, as well as "fun to drive" vehicles including the S660, Civic Type R and NSX