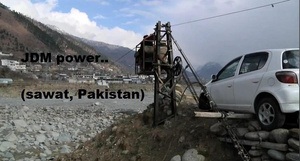 How Toyota Vitz run generators and cable cars are in Swat
These valleys have survived wars and natural disasters but their beauty remains undisturbed and spirits of people high which has led them to rebuilding their societies, homes and infrastructure, all by themselves or their efforts.
Although an initiative is being tiresome initiative is being led by Imran Khan Foundation, which is building them homes and working towards providing them other important necessities of 21st century's life. Still however, people just don't rely on foundations and step forward to help themselves.
This Toyota Vitz is being used in one of the world's most beautiful valleys to push cable cars across a riverbed. Where once stood a bridge destroyed by the recent floods, someone obviously, distraught by the city's inhabitants condition, left their car over there to make sure the cable car runs across the riverbed providing ease of transportation to the people.