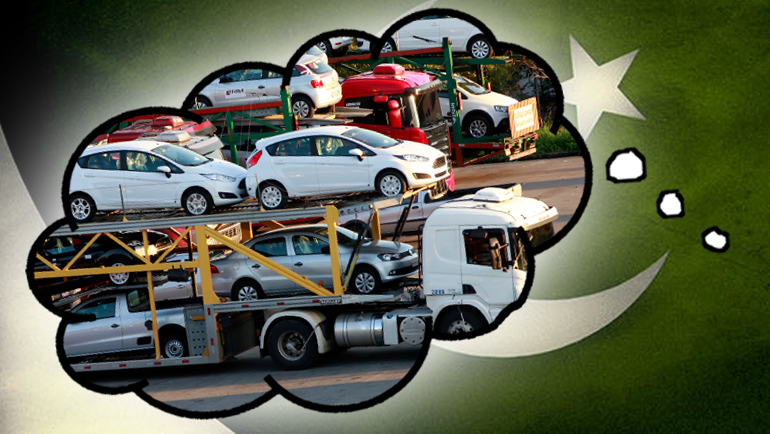 The federal government has removed a major hurdle in the import of car for overseas Pakistanis. According to a notification by the Ministry of Commerce, the government has ended the condition of International Bank Account Number (IBAN). Now the OSPs can import a car under gift scheme, transfer of residence and personal baggage, without giving IBAN number for the import. 
Car Import and IBAN Number: 
Earlier the government made it essential to mention IBAN on remittance certificate by OSPs. This new SRO made car import more difficult for OSPs. According to reports, the imported cars remained stuck at the port for months after this order. 
Later, the Customs Department mentioned a loophole in the new SRO. In a letter on September 10, 2020, Customs wrote to FBR that only 77 countries are using the IBAN system. "Whereas many countries including USA, China, Japan, Canada, Australia etc. are not using this system," the letter read.
The Customs requested FBR to issue policy guideline for clearance of vehicles where duty/taxes are coming from non-IBAN countries.

Reply by Ministry of Commerce: 
In its reply to Customs on November 2, 2020, the commerce ministry said that Proceed Realization Certificate (PRC), suggested by State Bank of Pakistan, shall be acceptable. "If it confirms the name and personal bank account number of the sender," the ministry said.
The notification further said that the PRC should also mention the name of the bank from where remittance is coming to Pakistan. 

Interesting Twist on Car Import: 
Although it is an issue of OSPs and their families, but All Pakistani Motor Dealership Association had written a letter to Commerce Minister Razzak Dawood. This is interesting because the government has banned the commercial import of used car; hence, the dealers should've no concern over the issue.
In its letter, the association wrote that the government had imposed a new requirement of IBAN for the clearance of vehicles imported by OSPs under Gift, TR and Baggage Scheme. 
"This new requirement has put the overseas Pakistanis and their families into a lot of problems," the letter read.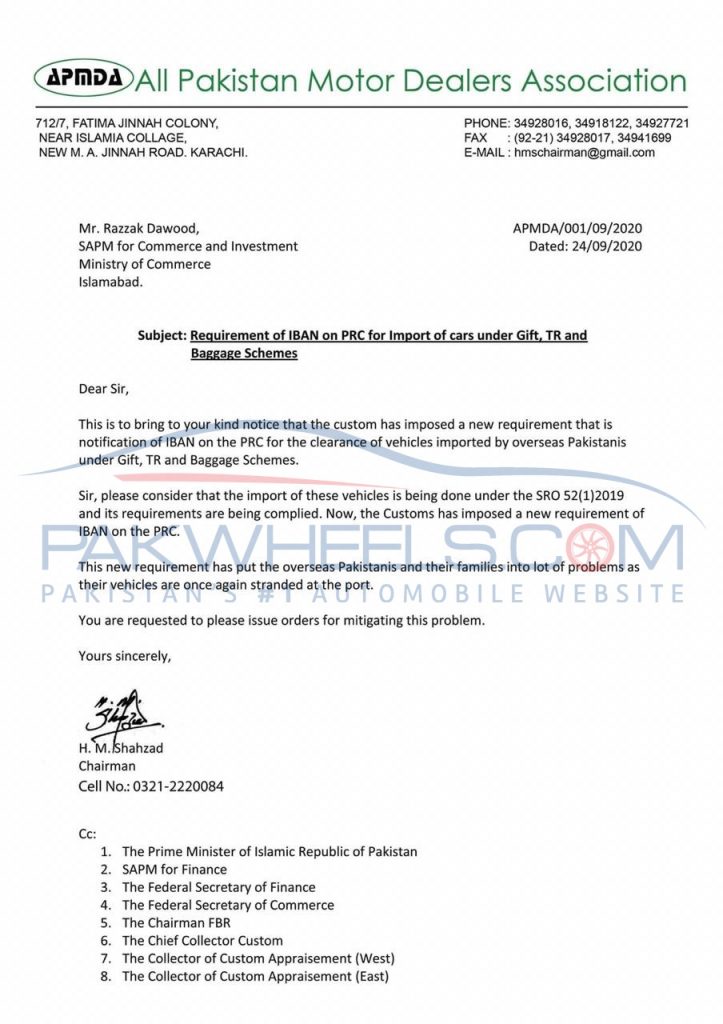 Let us mention it again that commercial import of used cars in banned in Pakistan . Hence, the question arises why the car dealership association is writing a letter to the commerce minister. Although it is the jurisdiction of Overseas ministry under Special Assistant Zulfi Bukhari.
Is this letter proves that these dealers have been importing cars using OSPs accounts and documents?
Verdict: 
Although the OSPs can import the vehicles under three conditions, but IBAN requirement had made it difficult for them. The government has taken the action on the issue as most of the countries don't follow this system. This will make the process very easy for OSPs to import a used car in the country. 
For more news, views and reviews, keep visiting PakWheels Blog.