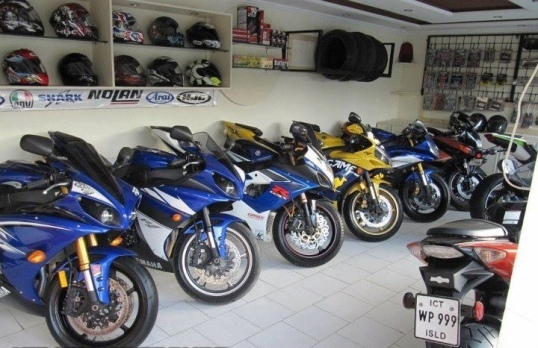 Hype of heavy bikes increasing in Pakistan
The trend of importing used and new bikes has sharply increased since 2012. The increasing interest of youth has pushed two bike assemblers to introduce new bikes amongst which one is Suzuki Hayabusa. On the other hand, car imports have decreased relatively because of the cut in age limit from five to three years.
Figures of Pakistan bureau of statistics (PBS) showed an increase of 374 percent in bike imports. The figure rose to $4.6 million in July-April 2013-2014 as compared to just $971,000 in the same period of last fiscal year. The trend of imports of heavy bikes has shown positive growth in 2012-2013 as it went up by 90% to $1.5m as compared to $785,000 in 2011-2012. Import of cars (over 90% used cars), plunged by 43.6% in July-April 2013-2014 to $159.6m from $283m in the corresponding period last fiscal year. At the same time PBS did not mention the number of bikes and cars imported during the same period last year.
Local assemblers have been active in bringing brand new costly cars, SUVs and bikes which are obviously not aimed for local assembly in Pakistan in future due to their high engine displacement. The assemblers have already marketed cars like Toyota Hybrid Prius, Toyota Land Cruiser, Toyota Prado, Toyota Camry, Daihatsu Terios, Honda Accord, and Honda CR-V to captivate a selected class.
Atlas Honda introduced brand new 150cc and 500cc imported bikes priced at RS660,000 and RS1,250,000. To deal with the competition Pak Suzuki Motor Company imported Inazuma 250cc with a price tag of RS675,000, Intruder 800cc priced at RS1,500,000 and the giant, Hayabusa 1300cc at a price tag of RS2.5 million. Out of these two companies, one increased prices even though the rupee appreciated against dollar.
The chairman of Association of Pakistan Motorcycle Assemblers (APMA), Muhammad Sabir Shaikh said that heavy bikes are more popular in some big cities of Punjab as compared to Karachi where sales of these bikes is relatively slow. Due to rising number of imports many people have opened service outlets in Punjab and in Karachi dealing only in heavy bikes. The chairman also added, "Bikes which arrive under various government schemes have different price tags ranging from 0.5 million to 3 million and even greater which is surely not an issue for young elites." The chairman also stated that the government is getting good revenue out of these imported heavy bikes and in some cases taxes and duties cross RS One million per bike.