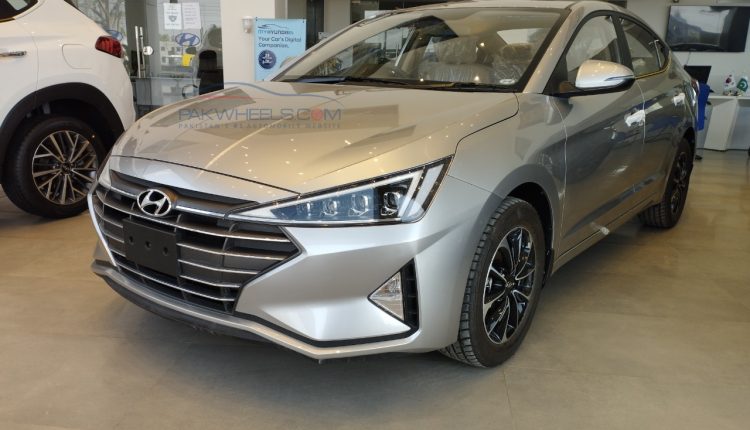 Hyundai Elantra 1.6L – Here are Specs & Features
Hyundai Nishat launched the all new Hyundai Elantra 1.6L today. The new sedan is the second variant of the car as the company has already introduced 2.0L in the local market. The first Elantra had a rocky start but over the months, it has emerged as a good product as people are now buying it. With the launch of 1.6L Elantra, Hyundai is planning to compete B-segment Toyota Yaris and Honda City in price segment, although it is a C-segment car.
It is pertinent to mention that 1.6L is not that much different from 2.0L, especially in looks. In this article, we will tell you the options, which are not available in the new variant compared to the first one.
Exterior
We were expecting that the 1.6L variant will come with halogen headlamps, but surprisingly , like the previous one, this variant also has LED tetra headlights and side indicators. The front grille garnish is also same. Furthermore, this one also has same two-tone 16-inch alloy wheels, sunroof, LED rear lamps, chrome garnish and chrome handles.
The major changes in the exterior are:
The new variant doesn't have smart entry, rather it has keyless entry with jackknife.
The keyless entry key has trunk opening button meaning smart trunk option is not present.
Auto sensing wipers are also absent in the new variant.
Engine
Apparent from the variant name, the car has 1600cc engine, producing 126hp and 155Nm of torque. And it is mated with the same 6-speed auto Triptronic transmission.
Interior
The interior of this variant has noticeable changes compared to the 2.0L variant, which are:
The car doesn't have traction control, push start and cruise control.
The steering is not leather stitched rather made of plastic material.
Climate control is not digital rather company has offered manual in this variant.
Option of wireless charger is also not offered in 1.6L.
The drive mode feature is not offered in the new sedan.
The 2.0L has powered adjustable seats, while the new variant has 6-way manual adjustment driver seat.
Meanwhile, passenger seat has 4-way manual adjustment.
Safety Features 
The 1.6L has dual airbags, ABS + EBD, and hill start assist and reverse camera.
Price
The current price of Hyundai Elantra 2.0L is Rs.  4,799,000, while the 1.6L variant is launched in Rs. 4,299,000.