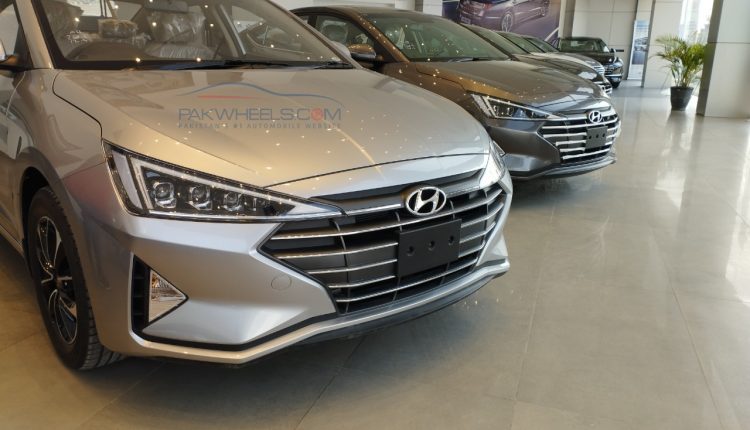 Price and Booking Details of 1.6L Elantra GL
The new variant of Hyundai Elantra is finally here. The car has arrived at the Hyundai dealerships and is currently on display. Here are the price and booking details of the new 1.6L Elantra GL.
Price of Hyundai Elantra
Here is the ex-factory price of the new variant Elantra.
Base Variant                                       1.6L Elantra GL                                                Rs.4,299,000
What is Hyundai offering in the new car? What are the feature differences between the two variants? You'll find out in our upcoming pieces on specs and features of the new 1.6L Elantra GL and a detailed comparison of 1.6L Elantra with 1.6L Corolla and 1.5L Civic.
Booking & Delivery
The new 1.6L Elantra GL is available for bookings for Rs. 1,200,000.
Competition
1.6L Elantra's direct competitors are the base variants of C-segment sedans, 1.6L Corolla, 1.5L Civic Standard, and 1.5L Civic Oriel. 
However, the new Elantra variant also has a price competition with top variants of B-segment sedans, 1.5L Yaris CVT and 1.5L Aspire City.
Hyundai launched the first Elantra variant in March 2021. And one year later,  the company has introduced the second variant of the car. We think waiting for a year was a smart move by Hyundai. The company launched the car in one variant to read the market. Now that people have experienced and fell in love with Elantra, they have brought a lower variant.
How do you like the new variant of Elantra? What are your first thoughts on its price? Do you think choosing a 1.6L Elantra over 1.5L Turbo Civic and 1.6L Corolla variants is worth it? If yes, why? On a scale of 1 to 10, how impressed are you with the car? Tell us all the good and bad things about the new Elantra variant in the comments below.
We are coming up with the detailed specs and features, exclusive first look review, and comparisons of 1.6L Elantra GL. Stay tuned!